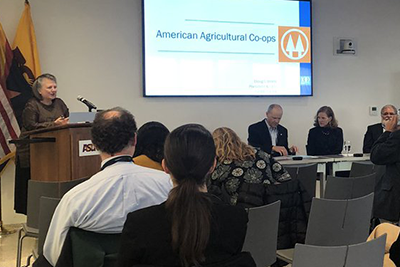 NCBA CLUSA last week partnered with Arizona State University's Swette Center for Sustainable Food Systems to co-host a briefing at ASU's Washington, DC location, the latest in a series of conversations the center is hosting on the future of food. Called "A Cooperative Approach to the Future of Food," the panel discussion included NCBA CLUSA president and CEO Doug O'Brien, CoBank Vice President of Policy and Public Affairs Sarah Tyree, and retired Federation of Southern Cooperatives Program Operations Director John Zippert.
O'Brien, in his opening remarks, provided a brief history of agriculture cooperatives, including a focus on geographic regions particularly dense in agriculture production, as well as the changes in sales over the past several decades. O'Brien's remarks also highlighted the resilience of cooperatives over time. While it is a challenging time for farmers across the country, cooperatives continue to provide stability for farmers.
O'Brien also addressed peoples' growing interest in knowing where their food comes from. "People have a different relationship with food now than they did 10, even 20, years ago—especially in what it takes to bring food to the table," he said. "People are wearing co-ops on their sleeve more and more every day." Cooperatives, with their transparent and ethical supply chains, are uniquely positioned to tell the farm-to-table story.
Zippert, an inductee into the Cooperative Hall of Fame, shared his history in the cooperative movement, farming and civil rights. During the conversation, Zippert discussed the work of the Federation of Southern Cooperatives/Land Assistance Fund to promote racial equity in farming and in the economy. The 2018 Farm Bill included a provision that would authorize funds to assist black farmers and ranchers resolving heirs' property and land title issues. Recently, an amendment to the Fiscal Year 2020 appropriations bill led by Sen. Doug Jones (D-AL) was approved and included in the final version of the farm bill passed by the U.S. Senate.
Tyree highlighted the role of the Farm Credit System and the importance of an institution understanding the finance needs of a cooperative. CoBank, part of the Farm Credit System, is one of the largest providers of credit to the U.S. rural economy, including critical loans, leases and financial services to agribusiness, infrastructure and other farm credit customers.
The briefing concluded with a reception for attendees and panelists to further discuss how cooperatives can help shape the future of food. This timely conversation also featured catering from two NCBA CLUSA members, Common Market Co+op and Organic Valley.