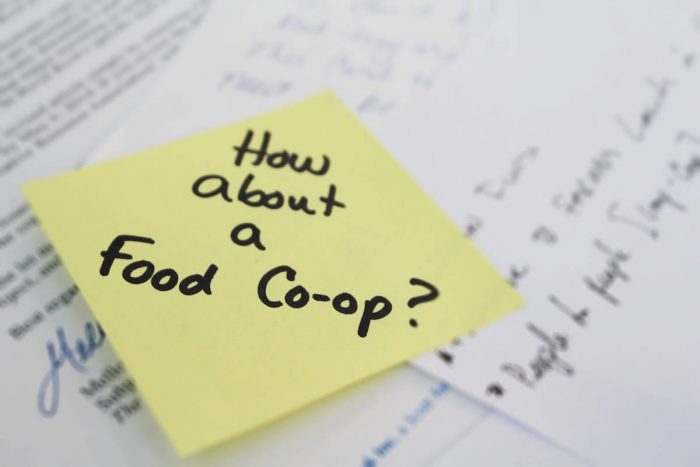 A simple sticky note was the catalyst to bring discussions and future implementation of a Friends and Farmers food co-op that will bring an additional outlet for local farmers to sell their food and provide a way for residents to buy locally grown food and support the local economy.
In addition to the food co-op start up, plans are underway to include a commercial kitchen that would be accessible to members or rented out to local small businesses. This article is shared from The Daily Collegian, a publication that is independently published by students at Penn State University.
Local foods could get another outlet through store owned by food cooperative
By Clayton Over, Staff Writer, The Daily Collegian
The idea for Friends and Farmers Cooperative sprouted on a sticky note two years ago. As early as next summer, one of its goals could come to fruition.
The food cooperative launched a membership drive last month, with the ultimate objective of raising capital to open a grocery store that would sell local food and goods, interim board member Elizabeth Crisfield said.
"The goal of the co-op is to make local food more convenient and increase the market share of the local food economy," Crisfield said.
The store will sell local foods, produce and other goods, Crisfield said.
"We want to roughly be a one-stop shop," Crisfield said.
Another planned feature of the store would be a commercial kitchen, Crisfield said. Members could use it for canning or other purposes, and small businesses or local startups could rent the site.Membership in the co-op is gained with a one-time equity investment of $300, she said. Students can also buy a membership for $30 a year, Crisfield said. If they leave the area after graduation, they will only have to invest the money for those years. If a student stays local after graduation, they can keep the yearly payments until paid in full.Benefits of membership include voting rights at meetings, partial ownership of the store when it opens and discounts at various local businesses, Crisfield said.