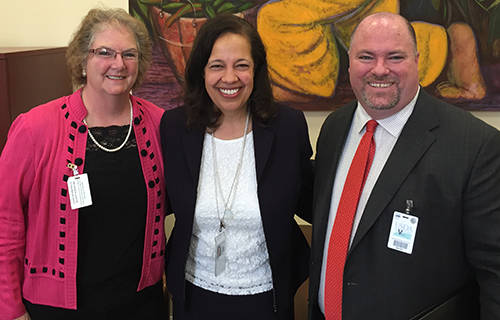 As the U.S. Department of Agriculture's Rural Development moves toward a Community Economic Development focus, NCBA CLUSA is poised to engage as a partner to help defend the longstanding role of cooperatives and retain the services provided to them by the department.
At a March 23 meeting with new Rural Development Under Secretary Lisa Mensah, NCBA CLUSA expressed support for the reorganization as long as co-ops remain a "mainstay" of the department's education and research work and budget and appropriations for cooperative development are preserved, said Pat Sterner, NCBA CLUSA COO for Domestic Operations.
"We feel confident that cooperatives are just as strongly regarded [by the department] as they have been, and that USDA is streamlining its own internal processes to be more efficient with funds and better communicate the cooperative business model to their field agents," Sterner said after the meeting.
Earlier in the month, NCBA CLUSA and the National Council of Farmer Cooperatives (NCFC) sent a joint letter to Under Secretary Mensah outlining both organizations' initial concerns over the restructure and expressing a willingness to engage for further clarity.
"Many in the cooperative community have been concerned about what a possible reorganization might entail, how vital services will get administered, and how cooperatives ultimately will retain dedicated resources for the purposes of education and development," the letter, dated March 6, says.
NCBA CLUSA works in close partnership with the USDA to protect the interests of cooperatives and promote their value to empower rural communities, most recently with a focus on retaining dedicated resources for cooperatives in the annual federal budget and appropriations process through the Rural Cooperative Development Grant (RCDG) program.
"We appreciate the inclusion of cooperatives in the larger Community Economic Development strategies promoted by the Administration, and see this reorganization as a potentially positive step that can reinforce USDA's commitment to supporting the development and growth of cooperatives in the U.S. economy," the letter, signed by NCBA CLUSA President and CEO Mike Beall and NCFC President Chuck Conner, says.
NCBA CLUSA and NCFC have convened a working group within the cooperative community to help guide discussion on what cooperative services should look like going forward and where, within a new Community Economic Development division, cooperatives should receive focus. NCBA CLUSA has requested that the division be renamed "Cooperative and Community Economic Development." In addition, NCBA CLUSA and NCFC have met with members of the U.S. House and Senate Agriculture Committees to brief them on the letter, working group and meetings with USDA.
Sterner said the working group will serve as a "conduit of communication," solidifying and articulating a unified, definitive message to USDA. She added that Chad Parker, deputy administrator for Business Programs at USDA's Rural Development, will be invited to join the group. Parker is helming the reorganization process at USDA.
During Monday's meeting, Under Secretary Mensah told NCBA CLUSA that her priority as incoming under secretary is to work on Rural Development's "infrastructure" and "core business." Data from the field still arrives in the mail and must be entered manually, she said.
Kevin Natz, who represented NCFC at the meeting, acknowledged the wealth of information the department provides, but expressed the hope for "more timely updates to various resource materials that Cooperative Services produces."
Mensah also asked NCBA CLUSA why resources and information from USDA on co-ops are seen as vital by the cooperative community. The question gave Sterner and Beall an opportunity to explain that, as a third party and longtime authority in rural cooperative development, USDA is in a unique position to engender trust.
"NCBA CLUSA has a critical role to play in convening cooperative leaders to ensure the entire cooperative community has a strong voice during the proposed restructure," Sterner said. "We are committed to working with USDA to revitalize the infrastructure for cooperative education, research, data and ensuring long-range support for cooperative development."