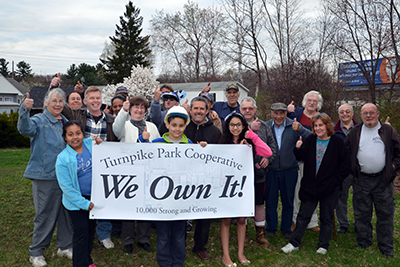 Under the theme, "Power in Purpose: Building the Next Economy," the 2019 Co-op IMPACT Conference will amplify how cooperatives—as principled, purpose-driven businesses—are building a stable, sustainable economy.
We hope you'll be a part of this year's conversation from October 2-4 at the Sheraton Pentagon City in Arlington, Virginia. Early-bird pricing is in effect throughout the entire month of July, so be sure to register by the 31st to save $200 on registration!
This year's session themes include Co-ops in Communities, Co-ops in Business and Purchasing Cooperatives. We've also added a full day of international-themed programming on Friday, October 4. Check out the conference agenda here.
This week, we're sharing a session we've partnered with ROC USA®, Start.coop and the Center for Family Life to bring you at IMPACT 2019.
With the ever-widening wealth gap in the U.S., the need for more distributive business models to scale is pressing. Mission-related investors believe co-ops are a possible solution, but they need to know whether the business model is scalable, and what its impact on low-income communities and communities of color is.
Three co-op innovators in this space—ROC USA®, Start.coop and the Center for Family Life—are addressing that challenge head-on with the stated goal of scaling cooperative enterprises. During this interactive workshop, participants will learn about the structures, strategies and economic models of these social ventures and engage in a discussion of scale that will inform the work of other co-op developers, advocates and mission-related investors.
About ROC USA®
ROC USA® is a cooperative development social venture that is scaling co-op ownership of Manufactured Home Communities through a network of affiliated nonprofit co-op development centers and a national Community Development Financial Institution (CDFI). The network currently serves 234 co-op communities and over 15,000 Member-Owners in 16 states. ROC USA Capital has financed over $220 million in co-op financing since 2009.
About Start.coop
Start.coop is a new Boston-based cooperative accelerator that invests in early stage entrepreneurs who are looking for scale and social impact using shared ownership models. Their inaugural cohort is a group of six teams ranging from a feminist, worker owned wine importer to a patient owned health data platform.
About the Center for Family Life
Center for Family Life, a Brooklyn-based social services organization and cooperative developer, has launched a worker cooperative cleaning franchise and a worker-owned booking platform (upandgo.coop) to help scale worker-ownership in low-income immigrant communities nationally. The Brightly® family of cooperatives will have four NYC-based worker cooperatives in its system by the end of 2019, with 70 worker owners. In 2020, they hope to expand the system beyond NYC. In partnership with immigrant communities, the Center for Family Life has incubated 21 worker cooperatives since 2006.
Session Speakers
Paul Bradley is president of ROC USA®. He founded ROC USA in 2008 with three LLC members and a national sponsor after 16 years of direct experience in every aspect of community organizing, training, project management and financing in the resident-owned community market niche. Prior to ROC USA, Paul served as vice president for Manufactured Housing at NH Community Loan Fund, where he managed the growth of manufactured housing loan portfolio from $3 million to $33 million over nine years. In 2018, Paul was inducted into the Cooperative Hall of Fame, one of the highest honors in the cooperative sector.
Greg Brodsky is founder at Start.coop. He is also founder of The Bike Cooperative, the first purchasing co-op for bike shops; co-founder of the Independent Brewers Alliance, a purchasing co-op for craft brewers; and board chair at Cooperative Development Institute. At Start.coop, Greg and the team aim to combine the member-driven values of cooperatives with the principles of the tech industry to help co-ops scale.
Maru Bautista is director of the Cooperative Development Program at the Center for Family Life, where she works with her team and the Sunset Park community to strengthen immigrant-led worker cooperatives in New York City. Maru oversees all of the program's scaling initiatives, and has been supporting Up & Go's development, its overall strategy and cooperative member engagement.
NCBA CLUSA's Co-op IMPACT Conference is the only national cross-sector event for co-op developers, business executives, financers, policymakers, legal professionals and thought leaders. This year's theme, "Power in Purpose: Building the Next Economy" highlights how co-ops—as principled, purpose-driven businesses—are building a stable, sustainable economic future. Register now to help us build the next economy!