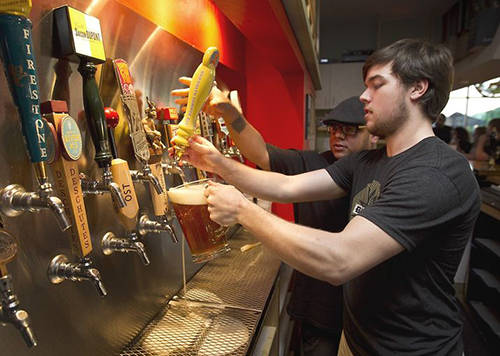 The Austin Cooperative Business Association was the first regional association to sign a formal charter with NCBA CLUSA. A new study by Cooperation Texas shows that Austin's cooperative economy is thriving. Economy reporter Dan Zehr wrote about the report's findings in the Austin American-Statesman.
Austin's first cooperative opened almost 120 years ago, and the city has experienced occasional bursts of co-op activity since then.
Today, though, the burst of cooperative activity on top of a solid base of established co-ops has made the business model a growing force in the regional economy.
According to a new report, the 43 co-ops in Austin generated almost $1.1 billion in annual revenue and, including their ripple effects, had an economic impact of roughly $2 billion a year.
The report, produced by Cooperation Texas, looks at the state of the cooperative economy in Austin and the challenges that face the growth of worker-owned co-ops in the area.
Austin had no worker-owned cooperatives when Cooperation Texas launched in October 2009, said executive director Carlos Pérez de Alejo. It now has five, with more in the pipeline.
"When we first started we were trying to plant seeds and … start businesses where people who did the day-to-day work owned and controlled it," Pérez de Alejo said. "Now I think there's a lot more receptiveness to it."
When the Tamale House on Airport Boulevard closed last year, it left some long-time employees out of work. Some of them eventually came across the Red Rabbit Cooperative Bakery, a worker-owned co-op founded in 2010.
Now, the Tamale House employees are working with Cooperation Texas to come up with a business plan in hopes of launching a new, worker-owned Tex-Mex restaurant co-op. They have a list of supporters in place if they start raising money, Pérez de Alejo said.
"They have a really loyal following," he said, "and these are women who worked there almost as long as I've been alive."
Pérez de Alejo said the budding interest in cooperatives has come from a variety of industries and from different segments of the population. And because a worker co-op pools the resources of a set of different people, the report notes, it can provide a more accessible path to business ownership in minority and low-income communities.
Access to capital and legal and accounting expertise are key barriers to co-op development in Central Texas, according to the report.
"Through shared ownership," the report says, "worker cooperatives also extend the asset-building benefits of individual business ownership to the workforce as a whole, creating a broader pool of wealth for the workers, their families and the community."
By most measures, though, established credit unions still dominate Austin's cooperative landscape. They account for virtually all the assets held by local co-ops, count more than 97 percent of local members and employ more than 86 percent of roughly 2,400 local co-op workers.
On the other hand, producer-owned cooperatives—such as the Greater Austin Merchants Association and Austin Screen Printing Cooperative—generate more than half of Austin's $1.1 billion in co-op revenue.
Worker-owned cooperatives provide just a fraction of the jobs and revenue in the area, but they can also help build worker wealth by providing better-paid, more-sustainable jobs that give workers a share in the company assets, the report said.
However, access to capital and legal and accounting expertise inhibit the development of worker cooperatives in Central Texas, the report said. For example, cooperatives typically don't qualify for loans backed by Small Business Administration guarantees unless they have a personal guarantor.
"If one person is on the hook for all the debt, that doesn't really lend itself to cooperative principles," said Brian Donovan, executive director of the Austin Cooperative Business Association.
Nor do individual cooperatives going it alone without the support, business and, well, cooperation of other co-ops in the region. The association was formed in 2013, amidst Austin's growing co-op activity to coalesce and organize their efforts. It was the first regional association to sign a formal charter with the National Cooperative Business Association.
At its annual Austin Co-op Summit this Saturday, the association and co-op members from Central Texas and around the country will focus on how they can work better with local governments to facilitate the cooperative business model.
"We're hoping that will be a part of an ongoing conversation between city staff and cooperative developers," Donovan said, "to help create an environment that will help cooperatives grow."