NCBA CLUSA was among sponsors on hand June 9 at the Paradise Springs Winery to welcome a team of long-distance cyclists to the DC Metro area during their stop in Clifton, Virginia along the 2014 Cabot Community Tour.
Modeled after the inaugural Cabot bike tour in 2012, the month-long journey along the Eastern Seaboard celebrates strong communities, volunteerism, cooperation among cooperatives and, of course, the "World's Best Cheddar" provided by sponsor Cabot Creamery, one of the premier co-ops in the U.S—a perfect complement to local Virginia wine.
As a farmer-owned cooperative, 100 percent of Cabot's profits go back to its farmer-owners, said Amy Levine, director of Marketing at Cabot Creamery.
"So it's near and dear to our hearts to support cooperatives and celebrate the value that they bring to society," she said. "That's what this tour is all about—from Jacksonville to New York, we're getting out into our communities and celebrating the good work you're doing. That's what we care about, and it's what our farmers care about."
Tucked behind a tree-lined stretch of country road near Woodbridge, Paradise Springs Winery and vineyard provided an ideal setting for an evening of networking and celebration. Attendees enjoyed Virginia wine and dined on the new Cabot Farmers' Legacy Collection, sampling three unique profile cheddars before they hit the shelves at area Wegmans, Harris Teeter and Safeway grocery stores.
The event drew more than 100 friends and supporters of the sponsoring organizations: Cabot, NCBA CLUSA and the Northern Virginia Chapter of the Virginia Credit Union.
"What I find is that wherever cooperative people come together, there is passion, there is energy, there is development, there is financial literacy, there is farming and there is great food," said NCBA CLUSA president and CEO Mike Beall, eliciting applause from the audience.
"The more I look at co-ops across sectors, the commonality is the cooperative principles. The commonality is our belief that our members own these businesses and our role is to help them achieve better lives," he said.
Long-distance cyclist Cathy Skott, who made remarks on behalf of the team, had an encouraging message for attendees and sponsors.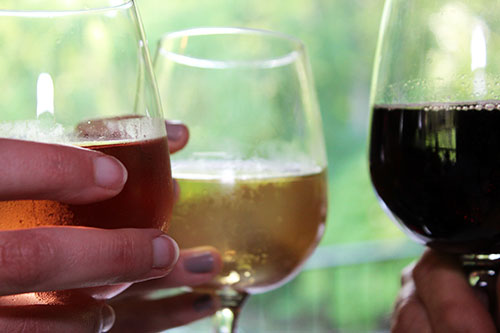 "We're here to tell you that what you're doing is good for our country. You're building a stronger and better nation. Thank you for all that you do in your own communities. Don't give up; don't think it doesn't matter. Even if no one pats you on the back, what you do is valuable. Keep doing it, and together we'll grow stronger and happier," Skott said.
Cathy and her husband, Myron, are the two "through riders" on the Cabot Community Tour. While other cyclists are joining them for stretches of the tour, the Skotts—Georgia natives now famous for their recumbent bicycles—have been on the road since May 17, when the tour kicked off in Jacksonville, Florida. On June 21—38 community events later—they'll cross the finish line in New York.
The Skotts are sponsored by Cabot and fundraising for the East Coast Greenway, matching donations up to $1,000. The Greenway is a 2,900-mile traffic-free route along the Eastern Seaboard from Key West to Canada.
At a memorable event in Hinesville, Georgia, sponsor Marriott organized a peanut butter drive to support Manna House, a local food pantry. Cyclists and volunteers collected more than 100 pounds of peanut butter, even enlisting hotel guests in the drive.
"It really highlighted the good things that can happen when a community comes together," Skott said. "One community member told me, 'When I first moved here, I had nothing. It was Manna House that first fed me.'"
Alan Fitton, a Cabot contractor providing support and media coverage during the tour, said he was drawn to the cooperative business model after leaving a former career in the corporate system, where he tired of the income inequality he says it represented. "I wanted to do something more ethical," he said.
Fitton isn't alone in that priority, Beall said. More than ever, he said, consumers nationwide are looking for local, ethical and sustainable choices.
"Whether it's Cabot cheeses or your next car loan from the credit union, what consumers want is good quality and an organization they can trust. And when they get a chance to own that, they're excited about it," Beall said.
"So this is a great night to unite us. What could be better than some food, some wine and a chance to sit and connect?" he added.