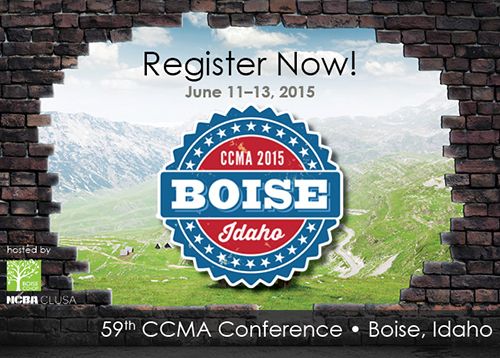 The 59th Consumer Cooperative Management Association (CCMA) Conference kicks off in Boise, Idaho, next week! A complete schedule of CCMA events and activities is now available online.
At CCMA 2015, you'll be part of a national conversation on how the food co-op sector can thrive in an increasingly competitive environment. Maximize your exposure to new ideas at CCMA by taking advantage of the thought-provoking plenaries, community conversations and bonus sessions built into the program each day—in addition to the six tracks of breakout sessions!
Friday, June 12

8 – 10 a.m.
Opening Plenary and Community Conversation
Moderator: Dan Gillotte, General Manager, Wheatsville Food Co-op
Panelists: Bruce Carozzi, Regional Manager, True Value; Will Hart, Executive Director, Idaho Consumer-Owned Utilities Association; Jerry McGeorge, Vice President of Cooperative Affairs, CROPP Cooperative/Organic Valley; and Debbie Wege, Community Giving Manager, Boeing Employees Credit Union
Facilitator: Thane Joyal, CDS Consulting Co-op
CCMA 2015 will open with a distinguished panel representing a variety of co-op sectors that successfully communicate the cooperative advantage to their members and customers. Our panelists will discuss the value of cross-sector collaboration as a way to promote the cooperative brand and identity.
After the panel presentation, we will engage as a community—in small groups—to explore the following Powerful Question: How can we use co-op brand and identity, including our connection to other cooperatives, as a strategic advantage in an ever-increasing competitive marketplace?
11:45 a.m. – 1 p.m.
Lunchtime Learning
These events will run concurrently.
Regional Collaboration to Advance Healthy Food Access 
Presenters: Bonnie Hudspeth, Membership and Outreach Manager, and Erbin Crowell, Executive Director, Neighboring Food Co-op Association; and Betsy Black, Northwest Loan and Outreach Officer, Cooperative Fund of New England
Learn how regional collaboration among co-ops and community partners promotes access to healthy food and increases food security. The Neighboring Food Co-op Association (NFCA) and Cooperative Fund of New England are working with NFCA member food co-ops to implement programs addressing food access and community ownership. Already, six food co-ops in the region have launched "Food For All" programs that make healthy food and co-op ownership more accessible to community members with limited incomes.
Youth Caucus
Moderator: Mo Kessler, Renaissance Community Cooperative and USA Cooperative Youth Council
This session will convene cooperators ages 17 – 31 to share their experiences and explore how they can support one another to more fully participate in both the conference space and the broader cooperative movement. Participants will draft a collective vision for the future of the cooperative movement from the perspective of young cooperators.
Saturday, June 13
8 – 10 a.m.
Morning Plenary and Community Conversation
Keynote Speaker: Mary Ellen Lynch, Director of Consumer Insights and Strategic Partnerships, SPINS
Facilitator: Art Sherwood, CDS Consulting Co-op
Mary Ellen Lynch brings more than 25 years of experience digging deep into syndicated retail measurement and shopper and consumer data to understand the consumer's path to purchase, all with an eye toward strategy and growth. During this presentation, Mary Ellen will address the food co-op industry and the broader food industry environment with a focus on trends, consumer expectations, and competition.
After the keynote presentation, we will engage as a community—in small groups—to explore the following Powerful Question: What will we do to be market leaders and grow our co-ops in this time of opportunity?
4 – 5 p.m.
Closing Plenary and Community Conversation

Facilitators: Pat Sterner, Chief Operating Officer, NCBA CLUSA; and Joel Kopishcke, CDS Consulting
This plenary will offer a final opportunity to engage as a community—in small groups—to explore the following Powerful Questions: What did we learn, what don't we know and what's one thing we'll do in the coming year to ensure that co-ops thrive? What is the common thread of conversation to continue throughout the next year?
There's still time to register and attend the 2015 CCMA Conference. Learn more and register at www.ccma.coop.