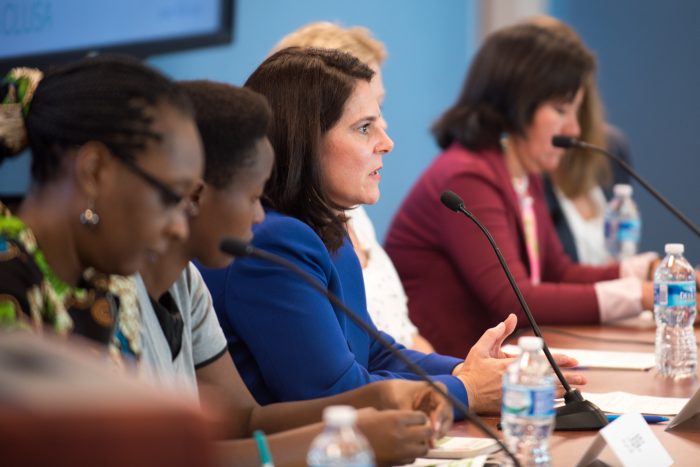 Speaking on a panel at the International Forum for Women's Food Leadership in the Global South October 27th, COO for International Programs, Amy Coughenour, discussed focusing on women and their role across food security programming at all levels.
Coughenour highlighted successes like NCBA CLUSA's Yaajeende program, funded by the US Agency for International Development (USAID), which has reduced stunting in children by 36 percent in programmatic regions in Senegal. The Yaajeende program established mother-to-mother groups, providing a forum for education and leadership.
"These groups empower women to not only speak to each other in the household setting, but take a leadership role at the community level in more formal structures," said Coughenour. 'That is the glue that brings women together to talk about feeding their children and nutrition."
Accompanying her on the panel were entrepreneurs and academics from Uganda, Colombia and other countries worldwide. They agreed that forming associations and groups, as well as more formal market structures such as cooperatives, were a critical piece to empowerment.
"In this national association we could share our technical solutions, as a small business we were not competitive," said fellow panelist and President of Colombia's International Women's Coffee Alliance, Yiver Vargas.
"The solution has to start with women joining producer organizations," said Dr. Sarah Lyon, Associate Professor of anthropology at the University of Kentucky and author of Coffee and Community: Maya Farmers and Fair Trade Markets. She went on to note that women who are members of a cooperative or producer organization have more access to markets, credit and land than non-member farmers.
"And this results in a huge impact on household economic power as well," said Lyon, whose research showed that women involved in producer organizations had more if not equal decision-making power at the household level.
Other ways women start businesses and achieve economic empowerment, outside the agriculture sector, include the Community-Based Service Provider (CBSP) model. Over the course of four years, in Yaajeende program intervention areas in Senegal, more than 3,000 CBSPs earned $2.7 million USD selling value-added nutritional products such as baobab powder or water filters. Instead of handouts, these CBSPs, many of them women, could impact nutrition in their communities through a sustainable income-generation platform.
From food security interventions at the household level, such as nutrition and family gardens, to large-scale economic market access through producer organizations and cooperatives, women benefit from associations. The International Forum for Women's Food Leadership in the Global South was organized over two days by the Women's Food Leadership Initiative in collaboration with the Global Gender Program at George Washington University, bringing together academics, business and international development leaders around issues of food security and gender.
(November 10, 2015)