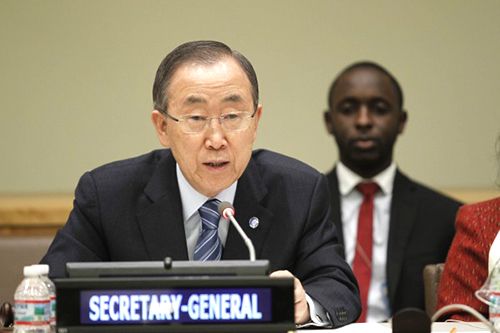 Ahead of a United Nations meeting on the post-2015 development agenda, UN Secretary-General Ban Ki-moon said the international community should "recommit" to the cooperative business model to help "fulfill our vision of a life of dignity for all." Co-operative News reportedon his endorsement of co-ops:
Cooperatives help stem inequality, United Nations Secretary-General Ban Ki-moon said in a statement recognizing the UN-observed International Day of Cooperatives July 4. The day, Ki-moon said, "highlights the invaluable role of cooperatives in making the vision of a sustainable future a reality for everyone."
Ahead of a meeting at UN headquarters in New York to highlight the role of co-ops and equality, Ki-moon said inequality is a "fundamental obstacle to development, depriving people of basic services and opportunities to build better lives for themselves and their children.
The cooperative model, he continued, helps meet this challenge. "Cooperatives strive to uphold the principles of equality and democratic participation. They are strongly committed to the communities they serve. This business model, built on inclusion and sustainability, offers a pathway towards economic, social and political justice for all."
Referring to research unveiled at the 2014 International Summit of Cooperatives in Quebec City, Canada, Ki-moon highlighted the impact of the sector. "Research has shown that co-operatives help to lower wage differences between men and women and promote greater equality in work and training opportunities. With an estimated one in every six people in the world either a member or client of a cooperative, and some 2.6 million cooperatives employing 12.6 million people, the potential contribution to sustainable development is enormous."
Last week's meeting in New York took place during high-level discussions at the UN on sustainable development and a look at the Post-2015 Development Agenda. The event, organized by the Committee for the Promotion and Advancement of Cooperatives (COPAC), highlighted the role of cooperatives and how the sector can help the international community achieve sustainable development goals.
In his statement, Ki-moon added, "In this crucially important year in which the world will commit itself to an inspiring new development agenda, including a set of sustainable development goals, let us recommit to the cooperative business model and use its many benefits to fulfill our vision of a life of dignity for all."