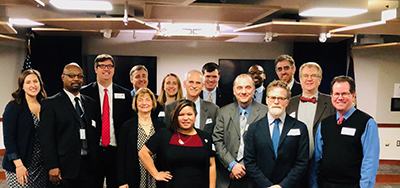 Today, NCBA CLUSA participated in the Small Business Administration's listening session on how to increase access to SBA's loan programs. As required a required by the Main Street Employee Ownership Act, SBA is seeking alternatives to a personal guarantee requirement on loans to cooperative businesses.
NCBA CLUSA took the opportunity to highlight the value that cooperative businesses across all sectors add to communities, and demonstrate why the SBA should swiftly determine an alternative to the personal guarantee requirement. SBA generally requires a personal guarantee on loans in the event that the business is unable to fulfill the obligations of the loan—sole business owners typically use their homes to satisfy this requirement.
But cooperatives are fundamentally different than sole proprietor businesses. Cooperatives are owned by their members, who have a shared stake in the business not only surviving, but thriving. Cooperative businesses are most often formed to meet the unique needs of the community in which it resides—whether that's retail stores, credit unions or farms—where they seek to provide services and access markets for their customers.
With approximately half of all privately-held small businesses owned by Baby Boomers, our economy faces a unique opportunity to create millions of small business member-owners. In its strong, bipartisan support of the Main Street Employee Ownership Act, Congress agrees that the federal government should embrace this opportunity. Co-ops, which are primarily small businesses, are drivers of local economies and the federal government should ensure that cooperative businesses have access to the SBA's capital opportunities to startup, expand, or sell their business to a cooperative.
NCBA CLUSA was joined by more than twenty other organizations in today's listening session, including National Cooperative Bank, the U.S. Federation of Worker Cooperatives, Capital Impact Partners, DC Credit Union, the Cooperative Fund of New England, the Democracy Collaborative, the Democracy at Work Institute and the Fredericksburg Food Co-op. Many constructive alternatives were suggested including requiring levels of equity or providing waivers to cooperatives that meet other requirements. NCBA CLUSA will remain active and engaged as the SBA continues to consider alternatives to the personal guarantee requirement.
Read the
full statement
submitted by NCBA CLUSA's president and CEO Doug O'Brien.