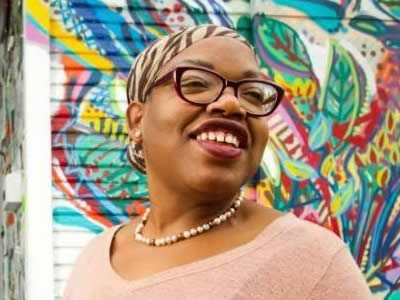 "My place-based work is around solidarity economy, creating communities with reparative systems."  
Dr. Assata Richards is a scholar, community organizer and advocate for social and economic justice in Houston, Texas. She is the founder and executive director of the Sankofa Research Institute, a community-based nonprofit with a mission to create knowledge to build community.  
In advance of her participation in an upcoming NCBA CLUSA webinar on February 28, the Cooperative Development Foundation (CDF) interviewed Dr. Richards about her personal and professional experiences that led to her belief in the economic, social, and cultural value of cooperatives.  
Dr. Richards introduced herself as a proud resident of a historically Black community in Houston, where she has focused her work as a public sociologist. 
"I am honored and privileged to be a third-generation resident of a deeply historically important and rich African American community. I am working towards and attending to liberation for people who have been historically oppressed in communities that have been historically oppressed and trying to create a world where liberation is allowed, and it is a right and a benefit to all. My practice … is fundamentally and foundationally cooperation and supporting cooperation."  
Dr. Richards is a founding board president of Community Care Cooperative, Houston's first home care agency. Community Care Cooperative is owned by certified nursing assistants and committed to serving aging residents living in the historic communities of Third and Fifth Ward.  
For Dr. Richards, the idea of organizing a home care cooperative in her hometown came from the experience of caring for her grandmother. As a sociologist, Dr. Richards observed not only the experience of a family member seeking reliable care, but also the working realities of the people caring for a person she loves. 
Living in a subsidized housing community, like many African Americans of the time, Dr. Richards' grandmother and her neighbors kept an "ongoing care relationship" with each other. People survived by caring for each other. Dr. Richards recognized the model as "Cooperatives, that's what they do."  
To Dr. Richards, it made sense to organize the skills and assets already in the community for the benefit of all, especially in a neighborhood where it was clear to her that "my grandmother, and other grandmothers, would never get what they needed in this system."
In response to a question about the challenges of starting a cooperative business in her grandmother's neighborhood, Dr. Richards answered that a primary challenge is belief, cultivating a "spiritual disposition" that allows people to mobilize and cooperate for the benefit of the community. 
Securing funding is also difficult.  
"Poor Black people deserve this kind of investment. And poor Black people can run and own a business. This kind of capital investment, where you're putting control and resources in the hands of the people who are most impacted by the conditions, has been hard to get. [Getting] funders to think "that's viable." 
But to Dr. Richards, the benefits of investments are obvious, "talking about really saving people or really investing in people for their own self-determination? That's not a difficult concept to convince people. It is evidence-based to be effective in creating change." 
Asked about the appeal of the cooperative model to address the needs of her grandmother's community, Dr. Richards said her work in graduate school reinforced the wisdom of her grandmother's community.  
"I cared about residents, and I wanted something that would impact them. Impact their lives and provide deep investments into them. The cooperative model did that. In its very structure, it claims the member-owner is important." 
For Dr. Richards, supporting the development of a Black member-owned business in a Black community is imperative and restorative. 
"People of African descent have never fully owned their labor in this country. Our bondage into this country was to steal our very labor, our very creativity. That has led to centuries and decades of trauma for people of African descent. We still refer to places of work as a plantation. I think the deepest, saddest day for Black people is Sunday because we know Monday is right around the corner. The experience of sheer terror, the pain and trauma that Black people experience in the workplace is unspeakable. Never fully being able to be ourselves, never being able to have our needs met, never being cared for. I know that history of enslavement and I wanted something that attended to that trauma." 
Cooperative organization, says Dr. Richards, makes it possible for "people of African descent to see their relationship with work in a way that celebrates and elevates them and says that our efforts create a return."  
In March, Dr. Richards will lead a workshop at the National Home Care Cooperative Conference highlighting the problems co-ops can solve, and the benefits they can deliver beyond financials. "We can make our cooperatives places that really nourish people beyond just that paycheck," said Dr. Richards. "Just being seen/valued/heard, able to speak for yourself can be transformational for disempowered individuals and communities."