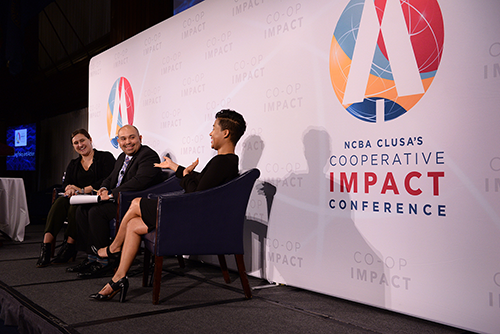 Early-bird registration is now open for NCBA CLUSA's 5th Annual Cooperative IMPACT Conference, scheduled for October 5-6, 2022. As a hybrid event this year, we are thrilled to offer two days of in-person programming* at the National Press Club while still preserving the accessibility and convenience of a virtual event. All in-person sessions will be livestreamed for our virtual audience.
Under the theme "Forward, Together," IMPACT 2022 will challenge the cooperative community to come together and capture a generational opportunity: applying the lessons we've learned from the past two exceptional years to our work as we move forward. Navigating a global pandemic has not only forced us to reconsider our relationships and workplaces, but also confront deeper, societal problems around inequality, systemic racism and climate change. The past two years have provided space for us to reevaluate our priorities and begin reckoning with our past.
At IMPACT 2022, we invite you to join us in moving forward, together.
Register now and lock in the early-bird rate of $55 for NCBA CLUSA members and $105 for non-members for our virtual programming—an exclusive savings only available until Friday, August 19. After the early-bird cutoff, member and non-member rates will increase to $75 and $155, respectively. Our early-bird rate for in-person programming is $145 for members and $245 for non-members through August 19.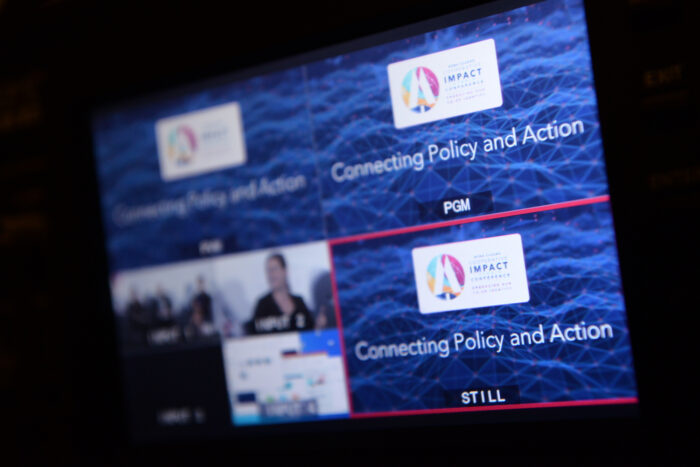 As always, this year's International Track is available free of charge to development practitioners. From the "Registration Type" dropdown, select either "Virtual International" or "In-Person International." These sessions are made possible by the U.S. Agency for International Development (USAID) and generously sponsored by our strategic partner the U.S. Overseas Cooperative Development Council (OCDC) and its members.
Tickets for this year's course offered by our strategic partner the International Centre for Co-operative Management at Saint Mary's University are also available to purchase during registration. "Taking Action on Principle 6: Leveraging Our Collective Potential" will be held exclusively in person on October 4 in the National Cooperative Bank (NCB)'s Innovation Room at 2011 Crystal Dr., Arlington, VA 22202. Learn more about this course here. NCB is a longtime strategic partner of the Cooperative IMPACT Conference.
NCBA CLUSA's Cooperative IMPACT Conference is the only national, cross-sector event elevating the national conversation around a trusted, proven way to do business and build communities. This annual conference provides an unparalleled platform to reenergize the cooperative movement and galvanize its champions around building a more inclusive economy. Register today and join hundreds of co-op developers, financers, community and city leaders, innovators, economists and policymakers in October!
---
*NCBA CLUSA will comply with all COVID-19 mandates and policies provided by both the Centers for Disease Control (CDC) and the local government of Washington, DC regarding the safety of in-person meetings.  
THANK YOU TO OUR IMPACT CONFERENCE STRATEGIC PARTNERS