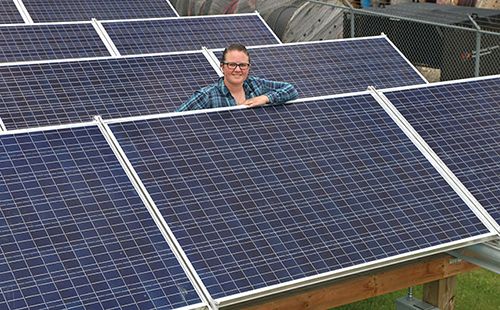 Home, business and farm owners deciding whether solar panels make economic sense have new research to pull from. An innovative solar power research project conducted by electric co-ops and funded in part by USDA Rural Development is providing key data on maintenance and reliability. Electric Co-op Today staff writer Derrill Holly wrote this release:
Two electric cooperatives in North Dakota have developed a small solar research project to help provide members interested in the technology with reliable information.
"Our members are self-reliant farmers, ranchers and small business operators who look for ways to control their costs," said Katie Ryan-Anderson, Communications and Public Relations manager of Member Communications for Northern Plains Electric Cooperativeand Dakota Valley Electric Cooperative.
The co-ops have constructed a small array of solar panels outside of the headquarters of Carrington-based Northern Plains, and despite its modest size, it's already producing valuable data for members of that co-op and Edgeley-based Dakota Valley.
"This is primarily a research project designed to help us learn what similar systems cost to maintain, and how reliable they will be throughout the year," said Ashten Breker, system engineer for the two co-ops.
The jointly managed co-ops serve 15,000 members along 11,000 miles of line in central and southeastern North Dakota.
About $14,000 worth of materials went into the project. Labor costs were extra, but grants from USDA Rural Development and the North Dakota Department of Commerce helped offset some of the expenses. According to the co-ops, similar grants are available for private projects.
The 6.56 kilowatt system is similar in size to what an average farm or small business might install, Breker said. "That's enough electricity to power 19 60-watt incandescent light bulbs all day and all night for 12 months."
The co-ops plan to keep members informed of their experiences with the array through newsletter updates, postings on their websites and social media pages.
"We hope to learn what sort of return members could see on their investment," Ryan-Anderson said. "With this information, Northern Plains and Dakota Valley can help members determine if these systems make economic sense at their homes, businesses and farms."