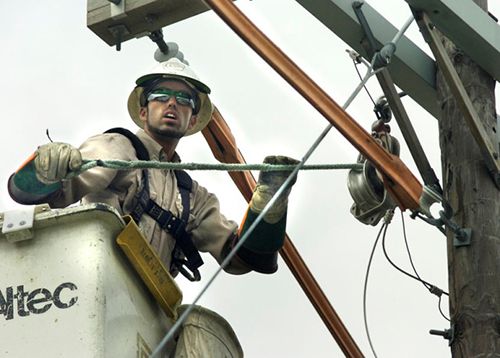 Power outages are inevitable. How well electric cooperatives communicate with their members when the lights go out can make or break customer satisfaction. Electric Co-op Today Staff Writer Michael W. Kahn reported on some innovative efforts at electric co-ops nationwide:
Some best practices were shared at a session at this month's CONNECT '15 Conference. For example, the outage viewer on the United Cooperative Services website displays a hardhat icon wherever a crew has been assigned.
"That goes a long way with buying some patience. If the members know we're already dispatching a crew that helps a lot," said Marty Haught, chief communications officer at the Cleburne, Texas, electric co-op.
No Internet? No problem. UCS gets creative.
"We have one area of our service territory with about 400 members who lack good Internet service. So we call the local convenience store, and the shopkeeper there is the information resource for that area," Haught said. The shopkeeper shares outage updates with customers.
"You have to leverage [the resources] you have," Haught said.
Kootenai Electric Cooperative members can sign up for text alerts so they don't have to fumble in the dark for the co-op's phone number.
"Within a minute or two that an outage occurs, they'll receive a text message that says, 'We know your power is out, and crews have been dispatched,'" said Keith Brooks, member and information services manager at Hayden, Idaho-based Kootenai.
Field crews know to provide updated information so that a second text can be sent with an estimate of how long the outage will last. A final text goes out when power is restored, and includes the cause of the outage.
"Internal communication is just as important—if not a tad bit more important—than the external communication," said Melissa Newcomer, Kootenai's business development coordinator. "Without that, you really don't have much to tell your members."
Pedernales Electric Cooperative shares members' social media comments with crews and others, "so that they get a better understanding of what's going on with the members, and this is why we're looking for restoration information," said Anne Harvey, director of Communication and Business Services at Johnson City, Texas-based PEC.
"People are incredibly verbal and incredibly honest on social media," said Harvey, who encouraged constant updates during outages.
"Your members are very understanding," Harvey said, adding that when it comes to estimated restoration times, "They'd rather have information than no information."