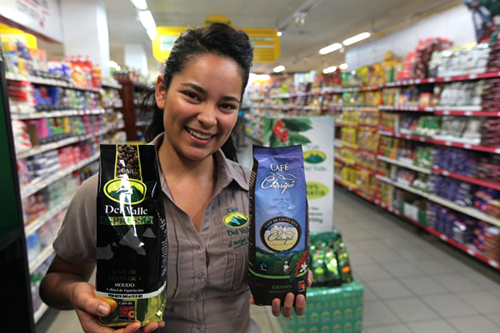 The 2014 annual report from Fairtrade International, a non-profit association that sets fair trade standards and helps producers gain and maintain fair trade certification, shows that fairtrade sales are growing steadily worldwide. Anca Voinea unpacks the report in this story for Co-operative News:
Fairtrade sales have increased by 15 percent around the world, with many of the products sold coming from producer cooperatives. In its annual report, Fairtrade International revealed that consumer sales of Fairtrade certified products hit €5.5 billion ($7.12 billion) last year.
Sales for Fairtrade's leading products grew by 8 percent for coffee, 22 percent for sugar, 12 percent for bananas and 16 percent for flowers. All coffee and sugar sold comes from small farmers organizations, the majority of which are cooperatives, while 75 percent of Fairtrade bananas sold come from small farmers organizations, most of them cooperatives as well. Fairtrade flowers were sourced from plantations.
Consumers in established Fairtrade markets continued to increase their Fairtrade purchases, with €2 billion ($2.6 billion) worth of sales in the UK and a 12 percent growth rate. Germany followed with more than €600 million ($776 million) and a growth rate of 23 percent.
Furthermore, more than 1.5 million farmers and workers belong to 1,020 producer organizations in 74 countries; 965 of these are small producer organizations, most of which are cooperative. Consumer sales in emerging Fairtrade markets such as Czech Republic, Hong Kong and South Korea have also doubled.
The number of Fairtrade producer countries has reached 74, while more than 30,000 Fairtrade products are on sale in 125 countries across the world.
"We're matching growth in the market with new approaches to deepen impact for farmers and workers," said Harriet Lamb, chief executive of Fairtrade International.
"If a day is a long time in politics, then a year is a short time in sustainability. Yet over the past year, we introduced new living wage benchmarks, piloted community-based approaches to prevent child labour, supported local trade unions to negotiate with employers… And this is only half-way through delivering on the bold new strategy we announced last year," she said.
The annual report also explains how the Fairtrade model helps change the lives of smallholder farmers. The document highlights a number of research projects that looked at the impact of Fairtrade. A study conducted by the University of Göttingen revealed that Fairtrade certification increased the household living standards of farmers in Uganda by 30 percent.
Other research carried out by the Natural Resources Institute at the University of Greenwich looked at Fairtrade's contribution to improving the lives of people in Malawi. It showed the Fairtrade Premium helped to support a range of livelihood and community improvements.
According to the report, Fairtrade Premium payments, received by producers on top of the selling price, reached over €86 million ($111 million). Small producer organizations have invested an increasing proportion of the Fairtrade Premium in direct services for farmers (42 percent) or measures to strengthen their cooperatives (44 percent).
While climate change remains a great challenge for Fairtrade producers around the world, Fairtrade International has launched three new adaptation projects last year, working with small producer organizations in Latin America and East Africa, including cooperatives. This initiative enabled producers to receive training and to become trainers themselves, passing on their knowledge to other cooperative members and within the community.
Fairtrade International is also working to support farmers' organizations, including cooperatives, to strengthen their resilience. Through the Fairtrade Access Fund, producers receive long-term credit and loans. In 2013, the fund dispensed a total of €7.5 million ($9.7 million) in loans to 14 producer organizations, benefiting more than 60,000 farmers, all of them members of co-ops.
Through Fairtrade Premium, co-ops can also provide offer young members the chance to get an education. Alida Strauss has been general manager of the Heiveld Cooperative in South Africa since 2010. She joined the cooperative in 2002 as their bookkeeper.
"At Heiveld, we try to do things to keep people here, to make it exciting for them and give them the self-confidence to believe in themselves … Go get your education, but come back and do something for your community," she said.
The co-operative uses a portion of the Fairtrade Premium to enable young people to go to university in Cape Town.
CARUCHIL, a Fairtrade co-operative in Honduras, funds additional Saturday courses for children using Fairtrade Premium. The co-operative, set up in 1991, developed a program with the Education Ministry of Honduras and two other education institutions to enable 100 children, teenagers and young people to continue their studies. They are also offering five scholarships for children of their members to continue their studies at the university level.
Referring to the important contribution of the movement, Marike de Peña, chair of Fairtrade International, said, "We can and will change the rules of trade, and enable producers and workers to map out their own future."
Ms. de Peña, director of a banana co-operative in the Dominican Republic, thinks that equal ownership is vital to driving change. "Fairtrade is about empowerment and long-term development, as farmers and workers transform deeply ingrained problems step-by-step to build a better future for themselves, their families and communities," she said.