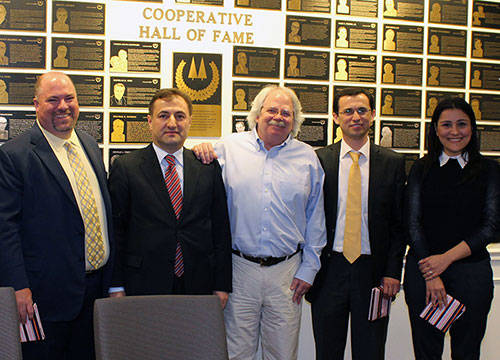 In what marked the first official cooperative-to-cooperative visit between the United States and Turkey, representatives from the Ankara-based Ministry of Customs and Trade General Directorate of Cooperatives met with NCBA CLUSA officials last week at the trade association and international development organization's headquarters in Washington, D.C.
The visit underscored a movement toward greater collaboration between the global cooperative community and the U.S. as a leader in the cooperative development sphere. NCBA CLUSA has previously met with similar delegations from Puerto Rico and Israel. A group from India is currently finalizing a visit.
"We are here to evaluate the well-established U.S. cooperative system, discuss future collaboration and hear success stories," said Ismail Kalender, general director of the Ministry of Customs and Trade. "Until now, we have only studied the cooperative industry in the U.S. on paper."
Mike Beall, president and CEO of NCBA CLUSA, welcomed the delegation. "We're very excited and very honored by your visit," he said. "We look forward to sharing the history and progress of the co-op movement in the United States, and in turn learning more about how co-ops function in Turkey."
Tom Decker, director of Cooperative Development for NCBA CLUSA, led the group through an overview of cooperative development in the U.S., from the birth of agriculture, finance and electric co-ops in the 1920s and 30s to a recent upswing in consumer cooperatives as communities increasingly value organic, farm-to-table food.
Decker also noted a trend toward collaboration among co-ops to deepen their collective impact and better raise the cooperative profile. NCBA CLUSA is an apex organization in this effort. Co-ops, Decker said, are "on the cusp of major growth" in the coming years.
The Turkish delegation also heard a summary of NCBA CLUSA's international development work from Amy Coughenour, chief operating officer for CLUSA International. That work represents 60 years of food security and nutrition projects, national resource management and community-based health. What began in 1916 with agricultural co-ops in India, she said, is now an international development organization implementing a $200-250 million five-year project profile.
The cooperative movement in Turkey dates back to the republic's founding in 1923, Kalender said. There are currently 84,000 co-ops in Turkey spanning 30 industries. Construction, agricultural and transportation co-ops comprise the top industries, while consumer co-ops are virtually nonexistent. Ten percent of the country's population—or 8 million people—are members of co-ops, he said. National laws in Turkey govern how co-ops are founded and dictate agricultural credits and sales.
"We were hoping to compare our system to the laws in the U.S., but have learned that there are no national laws here," Kalender said.
A shared concern is the less-than-ideal level of awareness of the cooperative model of business within government agencies. In the U.S., Beall said, situations such as FEMA's lack of an established disaster program for housing cooperatives in the wake of Hurricane Sandy could be avoided through greater understanding. While co-ops in Turkey are linked to governmental departments and supported by the Ministry of Customs and Trade, misgivings about their role and purpose persist, Kalender said.
"'Is this socialism? Is this communism?' These are the immediate questions that we face," he said, noting that such assumptions are beginning to wane, due in part to awareness raised by the United Nation's Year of the Co-op in 2012.
"These questions and hesitations don't just disappear overnight, but the more we share success stories and present the successful cooperative business models of other countries, the more they fade away," Kalender said.
The Turkish delegation expressed keen interest in worker co-ops. A presentation by Leslie Mead, executive director of the Cooperative Development Foundation, highlighted the established benefits of organizing home healthcare workers into worker co-ops. Research indicates that such consolidation leads to better pay and lower worker turnaround—a problem plaguing the home healthcare industry. An upcoming study will determine whether home healthcare co-ops also lead to better care, Mead said.
"We are very interested in this," Kalender said. "This is a model we would like to implement in Turkey."
The Turkish delegation spent Monday at NCBA CLUSA headquarters. Later in the week, following an itinerary set up by NCBA CLUSA, they met with representatives from the Credit Union National Association, Touchstone Energy Cooperative, National Rural Electric Cooperative Association, National Cooperative Bank, Overseas Cooperative Development Council, Community Purchasing Alliance, Health Republic Co-ops in New York and New Jersey, the National Federation of Community Development Credit Unions, Lower Eastside People's Federal Credit Union, New York City Network of Worker Cooperatives and the Park Slope Food Cooperative.
"We hope that our communication will only improve and provide the foundation to future collaboration," Kalender said.