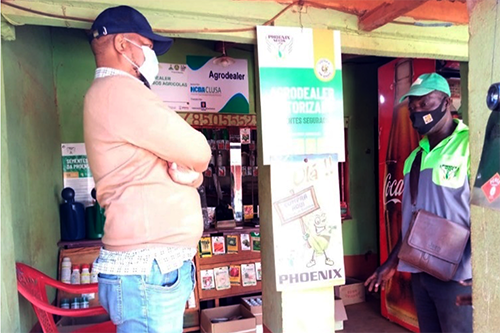 Janeiro Bernardo has been selling agricultural inputs and commodities in Mozambique since 2016. At first, his fixed resources limited him to ambulant sales and inputs fairs, but from these profits he was able to build and open his first inputs store in 2017.
Then NCBA CLUSA's PROMAC II project, funded by the Government of Norway, recognized Janeiro's potential. Project staff began to build his capacity for input sales by investing in his business. They gave his store a fresh coat of paint and installed a TV screen to play instructional videos on conservation agriculture and GAPs.
Project staff also helped develop his business skills through training in business and inputs marketing. They established a demonstration plot next to his store and linked him with markets, including major input suppliers and smallholder buyers through PROMAC II-organized field days and other events. Now, Janeiro stocks Phoenix weather-insured seeds with support from NCBA CLUSA's U.S. Agency for International Development (USAID)-funded SEEDS+ project.
By 2020, Janeiro's volume of sales had increased so much that he expanded, opening a second store staffed by two full-time employees. In addition to trading inputs, he uses his business to aggregate and store neighboring farmers' produce for subsequent sale to larger warehouse owners in Nampula.
Today, Janeiro is one of the largest inputs retailers in Mugema District and a recognized business leader in the area, known for diversifying his risk through a range of income sources. As well as opening a second location, Janeiro has also built a warehouse and a second home that allows him to earn an additional income stream by renting rooms. This success has enabled him to send his children to primary school, and even on to higher education. One of his sons is currently enrolled at a teacher training college in Alto Molocué.
At the same time, Janeiro maintains his own successful farm, putting his own advice into practice by using certified seeds and other inputs to farm three hectares of maize, cowpea, millet, pigeon pea and cassava.