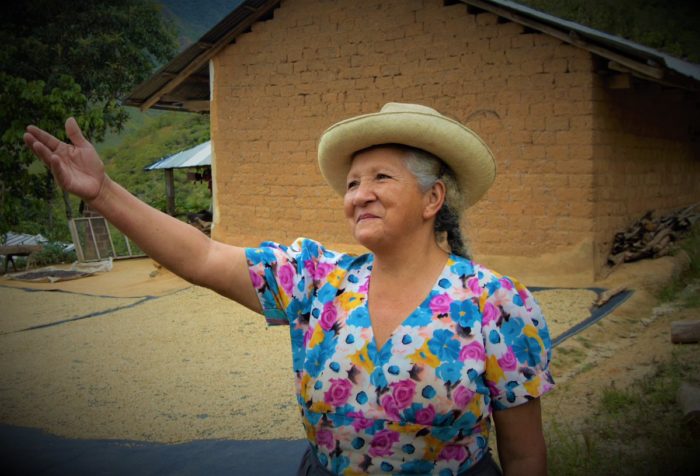 Cooperators around the world joined together on July 4 for International Day of Cooperatives to show leadership on climate action, taking a stand as a global community working toward a fair, green and just environment for all. The 2020 International Day of Cooperatives theme was chosen to support the UN's Sustainable Development Goal #13 on Climate Action, which calls for urgent action to address the current climate emergency.
Our projects in Indonesia, Madagascar and Haiti are working on climate related initiatives with cooperatives to support reforestation, agroforestry and protect biodiversity. These initiatives have an end goal of creating resilient cooperatives and communities that can mitigate and adapt to the effects of climate change and other environmental challenges, thus creating lasting impacts. Our programs in Peru and Ecuador also support cooperatives to become more resilient in the wake of shocks and stresses like climate change and the current pandemic.
USAID Feed the Future Indonesia Sustainable Cooperative Agribusiness Alliance
The just ended USAID Feed the Future Indonesia Sustainable Cooperative Agribusiness Alliance (SCAA) project built off the successful Indonesia Cooperative Business Development Alliance (ICBDA) project with an added environmental focus. SCAA-supported nurseries produced nearly 675,000 vanilla, pepper, and clove seedlings and distributed them to over 7,900 farmers who planted them on more than 1,800 hectares. Members of cooperatives in Sulawesi and Papua earn money from selling vanilla beans, peppercorns, and cloves through their cooperatives instead of cutting down trees and selling the wood to local sawmills and middle men. Although the project's impacts on the environment and climate change were not explicitly measured, farmers are now much less tempted to cut down trees since they generate reliable incomes from crops that require canopy.
Private sector partners involved in the USAID SCAA project will continue this impactful cooperative value chain work under the new USDA-funded Indonesia Spice Trade Alliance (ISTA) projectthat seeks to improve and expand the trade of black pepper, cinnamon and vanilla products in part through improving environmental resiliency.
USAID Sustainable Vanilla for People and Nature
Lessons learned from Indonesia are also being applied in Madagascar under the new USAID SVPN Activity that has been renamed locally as Mafatoky, which means insurance for the futurein the Malagasy language. Mafatoky has the explicit goals of reducing threats to biodiversity, improving natural resource management, and reducing greenhouse gas (GHG) emissions through sustainable, certified vanilla production and diversification of livelihoods for improved resiliency of vanilla cooperatives.
USAID Mikajy
NCBA CLUSA has been intentionally promoting biodiversity conservation in Madagascar through its work with vanilla cooperatives since 2018 as part TetraTech's consortium implementing the USAID Mikajy Activity. Earlier this year, USAID Mikajy celebrated a major milestone as 1,791 vanilla farmers of the AVAMA Cooperative Union in the Analanjirofo region became Rainforest Alliance certified. This means that vanilla farmers will do good for the environment while increasing their incomes through certification premiums. As conservation-friendly enterprises, AVAMA member cooperatives are now establishing nurseries to support reforestation, agroforestry, and protect biodiversity. The nurseries are part of the continuous improvement criteria required to maintain RA certification. As seen in Indonesia, these nurseries will also help coop members diversify their crop production and livelihoods.
USAID Reforestation Project
This five-year project, funded by USAID and implemented by Chemonics in partnership with NCBA CLUSA and the International Center for Tropical Agriculture (CIAT), aims to address critical environmental degradation and loss of tree cover in Haiti's North and Northeast regions. The reforestation project works closely with local communities to achieve four main objectives: reducing the threat of deforestation, improving resilience to economic and natural shocks, increasing tree cover in targeted areas, and improving environmental governance and coordination. NCBA CLUSA leads a participatory process to empower cooperatives and communities to develop sub-watershed management plans. In partnership with the Federation of Cacao Cooperatives of the North (FECCANO), the USAID Reforestation Project is increasing permanent tree cover and improving agroforestry on 1000 hectares. FECCANO is a leader in organic, high-quality cacao production with a membership of about 4,000 farmers, of which 42% are women.
USAID Farmer-to-Farmer Ecuador and Peru
The Ecuadorian government has embraced the Cooperative Model as a strategy to build resilience among families impacted by the spread of COVID-19 and the drop in oil prices, a highly dependent commodity for the economy. These worldwide events have rocked Ecuador, where 40% of the population is engaged in the informal labor market. This fact makes cooperation in vulnerable communities a critical aspect of long-term economic recovery by using cooperatives and associations as vehicles to access markets and scale up production. Through the USAID Farmer-to-Farmer program, NCBA CLUSA is supporting the Cooperative Model in Ecuador through strategic alliances and technical assistance in organizational strengthening.
In Peru, COVID-19 demands creativity and ingenuity in responding to the challenges the pandemic imposes on the cacao and coffee value chains. The USAID F2F program and local partners are uniting efforts to support AMUJENP, an all-women's chocolate makers association with ambitions to become a cooperative, by strengthening its organizational capacity through volunteer technical assistance. The women of AMUJENP hope these skills will help them reshape their chocolate business to build their resilience against future shocks and stresses like the current pandemic and climate change.
USAID Cooperative Development Program
NCBA CLUSA's CDP project also supports cooperatives and cooperative support organizations in Peru, Guatemala, Madagascar, Tanzania, and Kenya to become more resilient through tailored technical assistance and coaching activities. In Peru, virtual coaching services including financial management, accounting, governance, legal support, marketing, and psychological support are strengthening coffee and cacao co-ops' abilities to adapt, respond to members' needs, and tap into social services and financial assistance programs.
In Guatemala, the National Institute of Cooperatives (INACOP)—with support from other cooperative stakeholders—recently launched a monthly webinar series to engage and educate Guatemala's cooperative sector during the global COVID-19 pandemic. In celebration of International Day of Cooperatives, the July 4 webinar addressed the challenges of climate change from the cooperative perspective. NCBA CLUSA partners with INACOP as part of its CDP project.