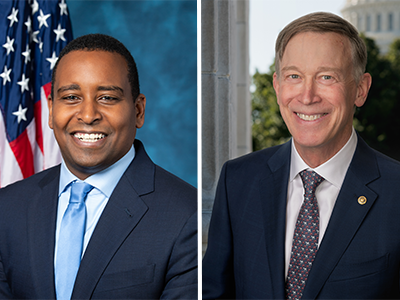 Just before Congress returned to their home districts for the holidays, Congressman Joe Neguse (D-CO) introduced the Capital for Cooperatives Act in the House of Representatives. This legislation would require the U.S. Small Business Administration (SBA) to change their existing regulations so that cooperative businesses can access the agencies affordable financing programs to help small businesses start-up, expand and innovate. Specifically, the bill would ensure the changes do not require a personal or entity guarantee from the cooperative.
"Small businesses are the heartbeat of our economy. Yet, far too often bureaucratic measures are keeping them from accessing the resources and support they need to grow and thrive," Rep. Neguse said. "The Capital for Cooperatives Act will address one such roadblock, so that more people can unlock the funds they need to start or grow their cooperative businesses."
Earlier in 2021, Colorado Senator John Hickenlooper introduced a similar measure. "Running a small business is tough. It's tougher when federal resources overwhelmingly go to a select group of people, businesses, and places," said Hickenlooper. "We must break down barriers that diverse businesses and businesspeople face and that's exactly what these bills do."
You can take action to grow support for the Capital for Cooperatives Act. Join more than 300 cooperatives and business organizations in endorsing the Capital for Cooperatives Act.
Ask your U.S. Representative to cosponsor the Capital for Cooperatives Act (H.R. 6317) by entering your zip code in the "share this content with your representative" box on the side of this page. Contact your two U.S. Senators by visiting senate.gov and selecting your state in the 'Find your Senators' dropdown box in the upper left corner of the site. Please contact Kate LaTour with any issues.
Here is a sample message to ask your elected officials to cosponsor the bill and feel free to modify the message as appropriate for your co-op:
Dear Senator/Representative ________,
As a member-owner of [CO-OP NAME] in [CITY/STATE], I urge you to cosponsor the Capital for Cooperatives Act (S.1736/H.R.6317) introduced by Senator John Hickenlooper and Congressman Joe Neguse. This bill would require the U.S. Small Business Administration to update agency regulations to ensure cooperatives can equitably access SBA capital programs to startup and grow our small businesses.
One in three Americans is a member of at least one co-op in the United States and co-ops account for approximately 65,000 establishments. Unfortunately, SBA has maintained regulations that prohibit cooperatives from accessing the affordable capital offered through programs like the 7(a) loan guarantee program. Changing these regulations will be an important step toward leveling the playing field for cooperatives—especially worker-owned and consumer-owned cooperatives. You can view the more than 300 business and lending organizations that have endorsed this legislation at ncbaclusa.coop/support-the-capital-for-cooperatives-act/.
Grocery cooperatives, which are jointly owned by members of the community—including shoppers, employees and local producers—represent over $2 billion of the grocery market. Food co-ops reinvest into the community at higher rates, source more than 10 times the amount of locally-made products, and create more jobs than traditional grocery stores. Increasingly, food co-ops are becoming the preferred strategy for eliminating food deserts in both rural and urban communities.
Worker cooperatives represent a growing sector of employee-owned businesses in the United States. On average, these co-ops offer higher wages and experience greater employee satisfaction than other business models. These factors contribute to lower workforce turnover, higher business productivity, and longer business survivability than non-cooperative counterparts. Worker co-ops are particularly important and experiencing growth in sectors like home care and childcare, and other service-based jobs.
Cooperatives are a proven model to help empower more people and create sustainable, inclusive economic growth. Access to capital is imperative for cooperatives to start-up, grow, and continue to meet the needs of its member-owners and communities. This need will only be more significant as communities across the country seek to recover and rebuild in the wake of the COVID-19 pandemic, and that is why I ask you to cosponsor the Capital for Cooperatives Act today.