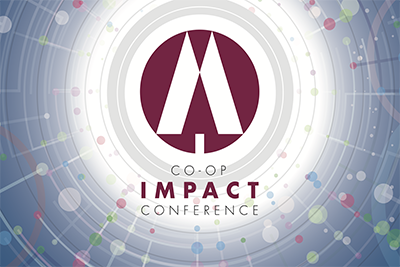 Under the theme, "Power in Purpose: Building the Next Economy," the 2019 Co-op IMPACT Conference will amplify how cooperatives—as principled, purpose-driven businesses—are building a stable, sustainable economy.
We hope you'll be a part of this year's conversation from October 2-4 at the Sheraton Pentagon City in Arlington, Virginia. Early-bird pricing is in effect throughout the entire month of July, so be sure to register by the 31st to save $200 on registration!
This year's tracks include Co-ops in Communities, Co-ops in Business and Purchasing. We've also added a full day of international-themed programming on Friday, October 4. Check out the conference agenda here.
Keep reading for a snapshot of a few of the sessions we're excited to bring you this fall:
Innovations in Scaling Cooperative Development
With the ever-widening wealth gap in the U.S., the need for more distributive business models to scale is pressing. Mission-related investors believe co-ops are a possible solution, but they need to know whether the business model is scalable, and what its impact on low-income communities and communities of color is. During this interactive workshop, participants will learn about the structures, strategies and economic models of these social ventures and engage in a discussion of scale that will inform the work of other co-op developers, advocates and mission-related investors.
Cooperatives and the Sustainable Development Goals: Impact on Purpose
Since 2016, co-ops worldwide have pledged their commitment to achieving the UN's Sustainable Development Goals, an ambitious agenda that sets a course to end poverty, protect the planet and ensure prosperity for all by 2030. Cooperative businesses contribute to sustainable development in unique ways because of their values, principles and purpose. This panel will address the myriad ways co-ops—as purpose-driven businesses—enrich their communities, contributing to local and global resilience, stability and sustainability.
Collaborating for Impact: Building a Cooperative Ecosystem in the Northeast
This moderated panel discussion will focus on the collaborative multi-sector, multi-state efforts that are coming together in the U.S. Northeast to advance multi-sector cooperative development. Participants will learn about the cooperative ecosystem that is emerging in the region and the impact this successful model can have nationally.
Look for more session previews in the coming weeks! In the meantime, check out our conference agenda and take advantage of early-bird pricing by registering by July 31.