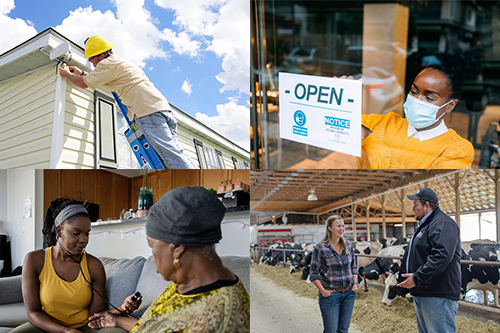 The beginning of 2022 brought into immediate focus several challenges that may be with us for much of the year: uncertainty related to COVID-19, related staffing and supply chain challenges, and a political environment more often defined by division than unity. These challenges continue to highlight the critical role that co-ops can and must play for their members and communities in the new year.
As people-centered businesses, cooperatives are "solution machines" that provide the resilience, stability and opportunities that people need—especially during precarious times. As your national apex cooperative association, NCBA CLUSA is here to support the cooperative sector—empowering co-ops and their members to make the greatest impact possible.
As we look to 2022, we will build on the successes of the cooperative community in 2021 when we reflected on what unites us. We rallied around our cooperative identity—its definition, shared values and principles—and challenged ourselves to live up to that identity. At NCBA CLUSA, part of that work meant better aligning our policies and practices with our vision and mission by prioritizing diversity and meaningful inclusion.
We also advanced DEI work within the cooperative community by partnering with the University of Wisconsin Center for Cooperatives to conduct a cross-sector survey of DEI practices with nearly 150 cooperatives nationwide. Marginalized communities have long harnessed co-ops to build community power; this survey looked at how today's co-ops are honoring that legacy. As a follow-up to the survey, we established a multi-year peer learning cohort of 49 co-op leaders representing 41 co-ops dedicated to advancing the DEI conversation across the cooperative community. In August, we partnered with the Cooperative Development Foundation and the Native American Agricultural Fund to co-host a webinar series on how Native Americans can use the cooperative difference to capture Indian Country's economic potential.
Our work around co-op identity drove the 2021 Cooperative IMPACT Conference, where close to 700 cooperators heard from 118 speakers across five days of programming that inspired learning and action. We heard from Sens. Tina Smith (D-MN), Mike Rounds (R-SD) and Tim Kaine (D-VA), as well as Secretary of Agriculture Tom Vilsack. Energized by the IMPACT conference, we raised the voice of the U.S. cooperative community at the World Cooperative Congress and joined the global co-op community in deepening our co-op identity. NCBA CLUSA was able to advance the conversation on how diversity, equity and inclusion can be better understood and expressed in the cooperative identity.
Building on the success of 2021, we are excited to advance the cooperative cause in 2022 by 1.) supporting cooperatives in building a more inclusive economy, 2.) advocating for co-op priorities in the halls of Congress and within federal agencies, and 3.) engaging our members in new and innovative ways.
Building a more inclusive economy
In 2022, we will build on our legacy of enabling more people in the U.S. and around the world to use cooperatives to solve problems and capture opportunities. Here in the U.S., we are excited to start a multi-year project supported by the U.S. Department of Agriculture (USDA) to help socially disadvantaged farmers build a cooperative development ecosystem in their own communities. We will continue to work across the cooperative community to broaden and deepen DEI. The second year of our peer learning cohort will culminate in a summit at the 2022 Cooperative IMPACT Conference in October. We will also partner with the Cooperative Development Foundation to deepen the work in Indian Country on how Native Americans can use cooperatives to build a more resilient food system.
Internationally, we will continue our work to ensure that people have the knowledge, resources and authority to build prosperity and well-being for themselves and future generations. In 2021, we implemented 20 development projects in 19 countries, working toward an inclusive economy around the world. We innovated in response to the global pandemic, strengthened communities and built resilience in the face of climate change. In 2022, we will deepen our global footprint, with new projects in Mozambique, Timor Leste, Kenya and beyond.
Advocating for co-op priorities
In response to the COVID-19 pandemic, Congress passed historic legislation totaling approximately $4 trillion. NCBA CLUSA worked diligently in 2021 to ensure that co-ops were eligible for immediate disaster relief programs like the Paycheck Protection Program, Economic Injury Disaster Loan program, and Restaurant Revitalization Fund. We provided the advocacy and guidance needed for 3,000+ co-ops to receive Paycheck Protection Program loans, totaling more than $1.2 billion in COVID-19 relief alone. Other investments are focused on economic recovery and will require federal agencies to engage in public comment periods before administering new programs. NCBA CLUSA will provide comments to federal agencies—and encourage our members to share their stories as well—to ensure that cooperatives can equitably access new programs. We'll also monitor agency implementation of these programs and continue to assist co-ops in accessing new resources. Moreover, some federal relief dollars are allocated to states and municipalities on a formula basis. In 2022, we'll deepen our engagement within state and local agencies across the country to ensure that local dollars invest in cooperatives.
While we help to shape new policies, we will also remain focused on NCBA CLUSA's longstanding policy priorities, including increasing funding for cooperative development—both through the USDA's Rural Cooperative Development program and international cooperative development programs. We will also continue our efforts to level the playing field for cooperatives at the U.S. Small Business Administration by seeking full implementation of the 2018 Main Street Employee Ownership Act. We will bolster our coalition of 300+ co-ops and partners in support of the Capital for Cooperatives Act. We'll also continue our work to grow support for cooperatives across sectors through education and awareness at the federal level by leveraging the bipartisan Congressional Cooperative Business Caucus and the Interagency Working Group on Cooperative Development, chaired by USDA.
Engaging our members
Whether through advocacy, developing cooperatives or telling the co-op story, the people of the cooperative community drive its growth and success. For NCBA CLUSA, that means giving our members the tools they need to connect and work together to make the biggest impact. To support our members in 2022, we are building on the success of our in-person and virtual engagements from 2021 to launch new membership tools, such as Co-op Circle, a new virtual platform that will support ongoing education and networking opportunities for individuals throughout the cooperative community.
We will also advance the Principle 6 Initiative by identifying and scaling local, regional and national opportunities for cooperatives to work together across sectors, acting on the 6th Cooperative Principle, or "cooperation among cooperatives." We have already started to work with co-op leaders in four regions across the country to enable cooperatives to collaborate across sectors to grow their cooperatives and increase their community impact. At the national level, we will introduce a Co-op Executive Roundtable in the spring and will work with co-ops from many sectors to identify ways to source affordable and sustainable capital into the system.
There is much good work to do in 2022. As we look to the generational challenges that we face this year, it's clear that for us to succeed we need to face them together. In such an uncertain time, this work is not only an opportunity for the cooperative community—it is our responsibility. NCBA CLUSA stands ready to support the cooperative community in advancing our mission of advocating and promoting cooperatives, and realizing the vision of building a more inclusive economy.
—Doug O'Brien is president and CEO of NCBA CLUSA, where he works with the cooperative community to deepen its impact on the economy.