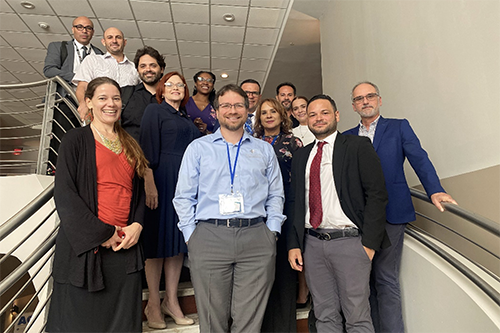 NCBA CLUSA is committed to supporting the cooperative sector in Puerto Rico in partnership with the Cooperative League of Puerto Rico (La Liga), the territory's co-op apex organization and a long-standing member of NCBA CLUSA. Two of our recently-launched project funded by the U.S. Department of Agriculture (USDA), Strengthening Co-op Capacity for Historically Underserved (HU) Farmers and Puerto Rico Climate-Smart Commodities  (d.b.a. Café del Futuro), are allowing NCBA CLUSA to channel resources to cooperative organizations and cooperative development organizations on the island. 
Taking advantage of the opportunity to participate in the Association of Cooperative Educators (ACE) Institute held August 7-11 in San Juan, Puerto Rico, NCBA CLUSA sent a delegation to the event including Alex Serrano, Senior Vice President for International Programs; Marcus Laws, Director of NCBA CLUSA's Café del Futuro Project; Teia Evans, HU Project Director; Bernardo Penaherrera, HU Program Manager; and Camila Piñeiro, NCBA CLUSA's Co-op Practice Area Director. The group coordinated with key cooperative stakeholders in Puerto Rico on activities to be conducted under NCBA CLUSA's two projects in the territory.
This year's ACE Institute brought together more than 100 co-op educators and developers from the U.S. and Canada to discuss climate, cooperatives and resilience. ACE is a membership organization that brings together educators, researchers, cooperative members and cooperative developers from across co-op sectors and national borders, resulting in ideas that enhance cooperative development, strengthen cooperatives, promote professionalism and improve public understanding of co-ops. 
NCBA CLUSA's USDA-NIFA supported HU project sponsored 20 scholarships for cooperative developers to attend the conference and engage in the Institute's education and training opportunities. The NCBA CLUSA team helped organize, moderate and present on several sessions during the Institute, including a session where Café del Futuro local partners—Puerto Rico Association of Coffee Producers (PROCAFE), University of Puerto Rico's Agricultural Experimental Station at the Mayaguez campus, and La Liga—presented on project strategies to help Puerto Rican coffee farmers recover from environmental, economic and social shocks by adopting climate change adaptation and mitigation practices.
Piñeiro coordinated a workshop called "Virtual Co-op Education: What Options are There and How Can we Cooperate for Greater Impact on People, Co-ops and Climate?" This session brought together several organizations doing online co-op education, including ACE's edu.coop, La Liga, EmprendeCoop and NCBA CLUSA's Co-op Business School to discuss lessons learned and potential synergies. Meanwhile, Evans accepted the William Hlushko award on behalf of Kirstie Boyette, the Cooperative Development Foundation (CDF)'s Associate Director who was recognized for her outstanding contributions to cooperative education at the event. 
As part of the HU project's research activities on enabling environments for cooperative development, and in an effort to guide cooperative development and Café del Futuro activities in Puerto Rico, NCBA CLUSA convened meetings with representatives of key cooperative stakeholder organizations. Participants included Mildred Santiago, La Liga's Executive Director; Irma Torres, La Liga's Legal Advisor; José Julián Ramírez, Executive Director at the Cooperative Development and Investment Fund (FIDECOOP in Spanish); Katherine De La Cruz, Vice-President for Marketing and Public Relations at the Cooperative Bank (BANCOOP in Spanish); Pedro Santiago, Coordinator of the Cooperative Research and Development Program, part of the Cooperative Institute at the University of Puerto Rico; Rafael Calderón Rodríguez and Lisbeth Mirabal Miró, part of the Cooperative Development team at the government entity charged with cooperative promotion, the Cooperative Development Commission (CDCOOP in Spanish); Mabel Jiménez Miranda, President of the Corporation for Cooperative Supervision and Securities (COSSEC in Spanish); and René Vargas Martinez, Director of Inclusiv Puerto Rico.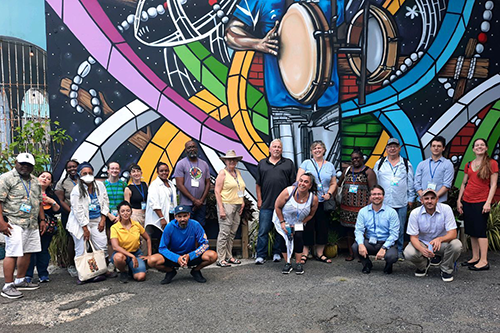 These meetings underscored the significant progress that the Puerto Rican cooperative sector has made in terms of the legislative and institutional frameworks needed for cooperatives to thrive. NCBA CLUSA, together with ICOOP, will be publishing a case study on the cooperative ecosystem in Puerto Rico as part of a series to advance understanding of cooperative ecosystems across the U.S.
On August 5, NCBA CLUSA's Serrano and Laws participated in the 5th Annual General Assembly of PROCAFE (Coffee Producers of Puerto Rico, Inc.), a subwardee of the Café del Futuro project—together with near 400 PROCAFE members, senior USDA staff in Puerto Rico, Puerto Rico Department of Agriculture Secretary Ramón González Beiró, and local legislators and mayors—to share PROCAFE's achievements over the past year as well as Café del Futuro expected results and planned activities. NCBA CLUSA also met with senior staff from USDA-Puerto Rico state agencies including Rural Development, Cooperative Services, Natural Resources Conservation Services, and Farm Services Agency to discuss USDA programs Puerto Rican organizations are eligible for.
This and other recent trips by NCBA CLUSA staff and leadership have served to deepen NCBA CLUSA's commitment to Puerto Rican cooperatives and communities and to solidify relationships of mutual/shared learnings and partnerships. Puerto Rico, with its more than 220 cooperatives and 1.3+ million members—out of a population of 3.2 million—and an estimated 7-8 percent contribution to GDP, has a long history and rich experience that should be valued and supported by the U.S. mainland and global cooperative movement.