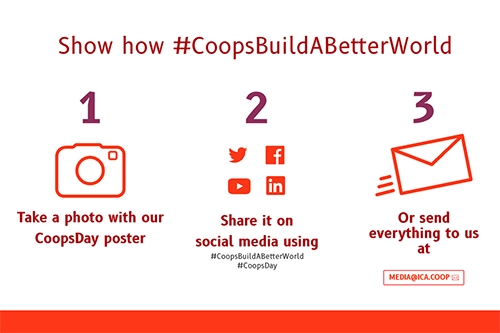 On Saturday, July 2, cooperatives around the world will celebrate the 100th International Day of Cooperatives. A decade on from the UN International Year of Cooperatives, which showcased the unique contribution of cooperatives to making the world a better place, this year's #CoopsDay slogan—"Cooperatives Build a Better World"—echoes 2012's theme.
Marked by cooperatives worldwide since 1923 and officially proclaimed by the United Nations General Assembly on the centenary of the International Cooperative Alliance (ICA) in 1995, the International Day of Cooperatives is celebrated annually on the first Saturday of July.
This year, the ICA invites cooperators everywhere to spread the word about how our people-centered business model—inspired by the cooperative values of self-help, self-responsibility, democracy, equality, equity and solidarity, and the ethical values of honesty, openness, social responsibility and caring for others—is building a better world.
"Cooperatives are the only enterprise model with globally agreed principles that rest on a foundation of shared ethical values," said Bruno Roelants, Director General of the ICA, adding that co-ops are a critical way to restore trust and inspire hope.
Operating all around the world across all sectors of economy, cooperatives have proven themselves resilient in the face of crisis. They foster economic participation, fight against environmental degradation and climate change, generate good jobs, contribute to food security, keep financial capital within local communities, build ethical value chains, and, by improving people's material conditions and security, contribute to peace and stability.
This Saturday, use the hashtag #CoopsDay to share how your cooperative is building a better world. Posters, logos and other resources are available to download at coopsday.coop.