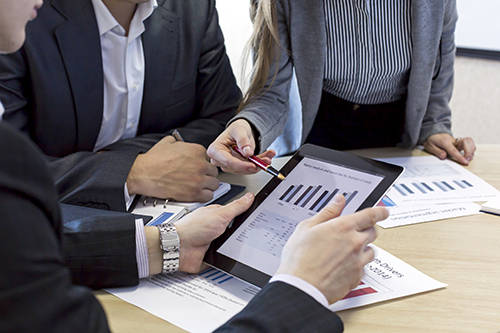 A recent benchmark report from The Accounts Receivable Network measures how companies are making strides in integrating and automating their processes.
Everywhere you look in business, the barriers to collaboration and integration are breaking down. And few areas show that more strikingly than Finance. Whether it's a closer working relationship between procurement and accounts payable or better collaboration between accounts receivable, billing, and collections, silos are falling. Recently The Accounts Receivable Network (TARN) published a benchmark study, "Benchmarks: AR/Order-to-Cash Integration, Automation, and Performance Metrics" measuring each of those areas, based on study participants. What that study found was that functions that were once highly decentralized are now, for the most part, centralized in a single center. By taking a more holistic approach, Accounts Receivable, rather than just being the center where payments are received, is now part of the whole order-to-cash continuum, including billing, collections, credit management, reporting and sales order entry.
Participants included 100 organizations, 65 percent of them B2B enterprises, that ranged in size from companies with less than 500 employees (34 percent) and less than $50 million in revenue (27 percent) all the way up to those with more than 50,000 employees (13 percent) and more than $25 billion (11 percent) in revenue. The Finance/ Insurance and Healthcare/Social Assistance sectors comprised the largest participation.
Accounts Receivable
When talking about integration, it's first necessary to establish the operational models of the participant, from fully centralized to partially centralized to decentralized, all the way down to outsourced. The study shows that centralization in a single center is the major model, with percentages in the various order-to-cash functions ranging from 32 to 49 percent. Another obstacle to full integration comes in the reporting hierarchy, which varies according to the specific function. This can definitely get in the way of a more holistic approach, especially when:
Credit reports to Controller or CFO (23 percent/22 percent)
Order Entry reports to Sales manager/director or Controller (30 percent/20 percent)
Collections reports to Chief accounts receivable or Controller (21 percent/18 percent)
Order-to-Cash Integration
When the report turned to order-to-cash integration, companies were asked how important they consider process integration to be. Companies supplied answers from absolutely no linkage (13 percent) all the way up to formal coordination at 43 percent. And when it comes to measuring a company's attitude toward process ownership, 45 percent (a percentage almost twice as large as any other response) said, "We perceive value in taking a process view and examining possible realignment of functions for better integration."
Automation
The prevailing view is that automation has made its mark felt most strongly in the procure-to-pay (P2P) process, but that order-to-cash (O2C) automation is moving up. The TARN survey measures the level of automation the respondent is currently employing and planning to implement, as well as comparing the levels of automation across functions. Although there are automation solutions for every step in the order-to-cash and credit-to-cash cycle, most companies questioned have not implemented many of them. Of those surveyed, only one technology, ACH, passed the 50 percent mark. Others close behind are ERP/Accounting System (49 percent) and Electronic Lockbox Imaging (48 percent).
When it comes to planning for the future, close to 40 percent of respondents indicated that they were not planning to implement any automation technologies (other than those that already existed). Other responses for planned automation technology were:Customer Portal (17 percent)Cash Application Automation (14 percent)

E-invoicing system/EIPP/EBPP (12 percent)

ERP or Accounting System (12 percent)

E-payment Acceptance Solution (11 percent)

Automated Sales Order Processing (10 percent)

Of the specific functions that were automated, billing and AR held the top positions, while credit and collections were the least automated.

Performance Metrics

You can't manage what you can't measure yet many of the companies in this report only measure basics, such as days sales outstanding (DSO) and the percentage of current AR, both at around 70 percent. Only one other metric ranked above 50 percent, that being the percentage of AR greater than 60 days. All other metrics tracked at 40 percent or lower.

Improve your accounts receivable department with the right automation solution.

—NCBA CLUSA Gold Level Associate Member and Business Sponsor Corcentric provides financial process automation solutions for buying groups, purchasing cooperatives and their members. This thought leadership piece was written by Corcentric Senior Vice President of Sales Dave Lindeen.