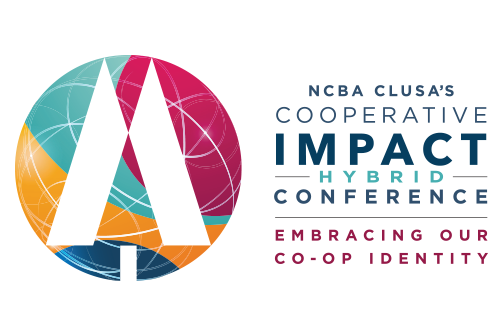 We're just 60 days out from this year's Cooperative IMPACT Conference, the only national cross-sector event attended by hundreds of co-op developers, financers, community and city leaders, innovators, economists and policymakers. That means time is running out to take advantage of this year's exclusive early-bird pricing.
We hope you'll be a part of this year's hybrid conference from October 4-8. Early-bird pricing is only in effect through August 15, so register soon to lock in our exclusive rate of $50 for NCBA CLUSA members and $75 for non-members on all virtual programming.
Please note that our in-person programming on October 7 and 8 is available at an additional fee to help cover venue and food costs. If you plan to attend one or both days of our in-person programming at the National Press Club on October 7 and 8, please add "Thursday In-Person" and/or "Friday In-Person" under "Additional Items" during registration. As always, our dedicated international development programming is available to practitioners free of charge.
Under the theme, "Embracing Our Co-op Identity," the 2021 Cooperative IMPACT Conference will challenge cooperators everywhere to deepen their understanding of the values and principles that truly make cooperative enterprise unique.
Embracing the cooperative identity goes beyond understanding it in the academic sense; it also provides an opportunity to act on that deeper understanding. Whether working to dismantle racism, build resilience in the face of climate change or preserve small businesses during a pandemic, last year reminded us that cooperatives have the greatest impact when cooperators live up to their values and principles.