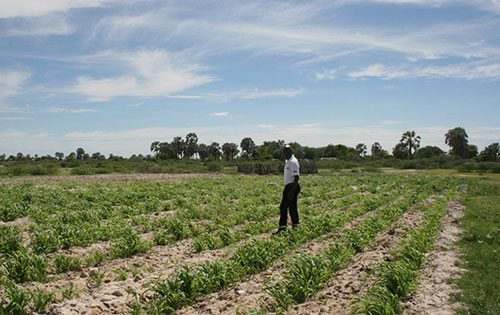 The New Era Newspaper recently published this story about NCBA CLUSA's Namibia Conservation Agriculture project:
Conservation Agriculture is the new buzzword in the seven communal crop-producing regions of northern Namibia after Kongalend Financial Services announced special small agri-business financing packages to farmers last week.
Richard Shikongo, the Namibia Conservation Agriculture Project (NCAP) coordinator and NCBA CLUSA Namibia country representative, says the announcement was greeted with great enthusiasm by communal farmers and he expects these farmers to make full use of the unique opportunity now available to support communal farmers implementing Conservation Agriculture methods.
"Commercial banks are not very communal crop farming friendly and Kongalend, in cooperation with NCBA CLUSA, saw the opportunity to help such farmers by offering them these special financial packages and loan opportunities," Shikongo said.
"The reaction to the announcement has been overwhelming and we expect great things from this combined effort to uplift communal farmers and help them to support their own families and contribute towards food security in the country," he added.
Farmers and entrepreneurs are visiting the Kongalend loan offices for further information and for application forms. Successful applicants will be offering conservation tillage services (ripping furrowing) as agro-businesses in the seven northern Namibian dry land crop-producing regions.
"I am very happy with the overwhelming response to the conservation tillage financing package offer as there is a huge demand from farmers to practice Conservation Agriculture," said Andreas Tweendeni, field coordinator for the USAID-funded NCAP program in Oshikoto region, implemented by NCBA CLUSA and local partners Creative Entrepreneurs Solutions (CES) and the Namibia National Farmers Union.
"Currently there are too few service providers with rippers and good quality 4×4 tractors, and I would love to see many more," Tweendeni said.
Tuhafeni Nghilunanye, assistant manager at CES, said he has received an influx of phone calls and emails from people interested in the finance package, the ripping furrowing method and customer base. Robert Tobias, program coordinator at NNFU, is meeting similar demands.
"For Ohangwena I need many conservation tillage service providers with 4×4 tractors and rippers as I have a lot of farmers registered for ripping," Tobias said.
Last week Olivia and John Shimpanda from the King Kauluma area close to Oshivelo drove all the way to Ondangwa to meet with Kongalend loan officers. The couple—who started practicing Conservation Agriculture last season after attending a regional NCAP training—are lead farmers on the NCAP project.
"As a result of Conservation Agriculture we had the best yield we have ever had. Now the interest among other farmers in the Oshikoto region is growing rapidly and the demand for conservation tillage land preparation services is very high," the couple said.
"We feel it would be great to become service providers as we are the Conservation Agriculture pioneers in our area and we know the benefits of the methods. We are applying for the special offer loan and if we are successful, we plan to operate as conservation tillage service providers," they said.
In Rundu, NCAP Regional Field Coordinator Robert Mupiri met five interested loan applicants for information sharing on NCAP and conservation tillage service provision as agri-business.
"The interest for the loan is high as it is a very good offer and the demand from farmers for ripping is high. There is a strong consensus among the applicants of the importance of offering conservation tillage services to farmers for the sake of increasing local and national food security and to create local economic development. Some of the applicants are already practicing Conservation Agriculture methods on their farms and know very well the benefits and the potential of massive up-take of the method," Mupiri said.
Johannes Amutenya, from Oshana region, has already submitted his loan application. "Having been involved in drought relief distribution, I see the urgent need for increasing food production and I know the production potential with Conservation Agriculture, as I practice it myself. Ripping furrowing tillage is not limited to the rainy season only, meaning your tractor can also operate during the dry season. It is a very good income opportunity," he said.
Samuel Nelongo from Eheke has been a conservation tillage service provider since September last year. As demand grows, so does his customer based.
Nelongo decided to switch from disc harrowing to ripping when he was exposed to the results of conservation tillage. "The yields from ripped fields are much higher than those from disc harrowed fields. With ripping you get a much better harvest no matter if it is a dry or wet crop season. And the maintenance costs of a ripper furrower are much lower than that of disc harrows, which is saving costs in my agri-business," he said.
Nelongo encourages existing and prospective tillage service providers to specialize in ripping furrowing. "Conservation tillage is increasing production. Farmers are asking for it as they are in dire need to become food secure."
A medium sized 4×4 tractor fitted with a ripper with furrower wings is ideal for smallholder farmers producing crops on 2.5 to 50 acres. The ripper furrower method is a conservation tillage technique within the wider scope of Conservation Agriculture. The ripper tines crack open the compacted plough pan, allowing for deep root penetration, while wings fitted on the tines create furrows that guide rain water to the planting lines, thus creating in-field rain water harvesting. The method is also suitable during flood conditions since with the plough pan broken, the water can seep into the soil.
"This is the beginning of a real investment opportunity into the communal land farming sector, NCBA CLUSA Namibia Country Representative Shikongo said.
"The Conservation Agriculture agri-business financing offer by Kongalend is investing in service provision for smallholders and small-scale farmers. I am excited as this will improve food security and advance the livelihoods of the farmers," he said.
—By Deon Schlechter/New Era Newspaper, edited by NCBA CLUSA