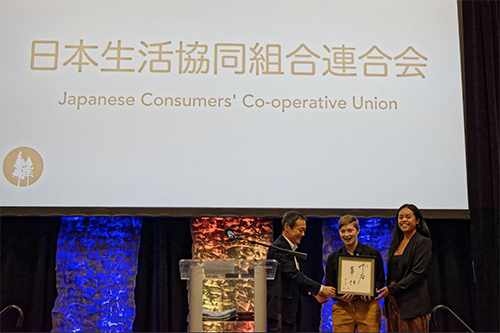 Over 400 students, housing co-op members and boards celebrated "a legacy of cooperation" this past weekend to honor the North American Students of Cooperation's 50th Anniversary.
The 2018 NASCO Institute, held in Ann Arbor at the University of Michigan, featured over 50 workshops and sessions not only educating student cooperators on the impressive legacy of the student cooperative movement, but also preparing them for a future of cooperative activism and living.
Representing the legacy of NASCO, three new members were also inducted to the NASCO Hall of Fame Saturday evening: Sheella Mierson, who organized the first NASCO Cooperative Education and Training Institute; Howard Adelman, who successfully lobbied the Canadian government to provide loans to student housing co-ops; and Anjanette Bunce, who as Director of Education at NASCO greatly expanded the education and training opportunities, joined the over 100 cooperators honored in the NASCO Hall of Fame.
The first recipient of NASCO's Hall of Fame honor, Toyohiko Kagawa, was also celebrated as a key part of the 50-year legacy of NASCO. One of the influential founders of the cooperative movement in Japan, Kagawa also influenced the student cooperative movement in the U.S. To celebrate what would have been his 100th birthday in the late 1980s, at the request of the National Cooperative Business Association (NCBA CLUSA), the Japanese Consumer Cooperative Union (JCCU) gifted a foundational $50,000 grant for a revolving loan fund to support student cooperative development.
Today, the Kagawa fund has loaned over 1 million dollars for cooperative development and will celebrate its 30th anniversary next year.
To honor that commitment, and the legacy of Japanese-U.S. cooperative relations, NASCO staff and board presented the JCCU with an honorary membership.
"Through traveling back in time to look at the strong sentiments that moved the original cooperatives to found NASCO as an international movement-building organization, I felt an incredible energy of excitement around organizing locally to be stewards of the equitable and sustainable development of the communities in which we belong," said Kiyomi de Zoysa, NASCO Board Treasurer, who introduced NASCO's legacy during the banquet dinner.
The keynote over the weekend was presented by U.S. Federation of Worker Cooperatives (USFWC) Executive Director and NCBA CLUSA board member Esteban Kelly. Diving into the history of cooperative movements alongside the social justice movements throughout the 20th century, Kelly urged NASCO members to learn from these movements to envision their future and work towards transformational change.
With insight into the legacy of the last half-century, NASCO members seemed ready to propel the movement forward for the next 50 years.