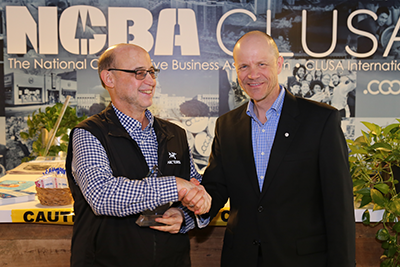 NCBA CLUSA last week celebrated 40 years of service by Sam Filiaci, the association's longtime Regional Director for Southeast Asia.
In the early 1990s Filiaci, working for NCBA CLUSA with funding from the U.S. Agency for International Development, helped organize 450 coffee farmers in East Timor into a cooperative called Cooperativa Café Timor.
There was just one problem. The co-op had nowhere to sell its coffee. At the time, few coffee buyers were sourcing from East Timor due to a lack of infrastructure and decades of conflict in the region. Undeterred, Filiaci sent out hundreds of faxes to potential buyers. One of the very first to respond was Starbucks.
Over the years, Filiaci made deep connections and long-lasting relationships with Starbucks and other key buyers in the coffee industry.
Part of how he accomplished that was moving Cooperativa Café Timor and NCBA CLUSA's broader work in Southeast Asia "from a project mentality to a business mentality," said Jim Cawley, who served as a Vice President of NCBA CLUSA when Filiaci first came on board.
Today, with 24,000 farmer-owners, Cooperativa Café Timor is East Timor's leading private-sector employer and one of the world's largest single-source suppliers of certified organic Arabica coffee. Reinvesting coffee profits back into the community, the co-op runs a network of health clinics that provide critical healthcare in rural East Timor.
"What fulfills me the most is the long-term impact," Filiaci said. "Development is hard work, and we're often working in place of conflict and places of natural disasters. Investors in these sorts of project expect return, and that return obviously has to be in making lives better. We've been able to do that and do it exponentially [in East Timor]."
He continued, "Infant mortality rates have gone down, kids are healthy and women aren't dying during childbirth. People are making more money, they're able to educate their children, they're building homes, and they're feeding their families."
Filiaci got his start in coffee while volunteering in Kenya with Peace Corps after becoming "disillusioned" with a corporate finance job. Shortly after Peace Corps, he joined NCBA CLUSA in rural Indonesia, where he tested small scale coffee operations to determine what was financially viable, ending up with a model where farmers earned money not only from the sales of their initial crop, but also from their shares in the processing and marketing of that crop, said Susie Jones, who also worked with NCBA CLUSA at the time.
"That's really the way cooperative development needs to be done," she added.
NCBA CLUSA continues to support cooperative coffee in Southeast Asia under the leadership and expertise of Filiaci. Our projects are helping farmers diversify their incomes with spices and crops like vanilla, cloves and cassava. The East Timor Coffee and Cocoa Agribusiness Opportunities project as well as the Feed the Future Sustainable Cooperative Agribusiness Alliance project in Indonesia both support co-op access to international markets and help farmers diversify and increase their incomes.
"Just having the opportunity to be part of all this great investment and support over many, many years is a privilege," Filiaci said.