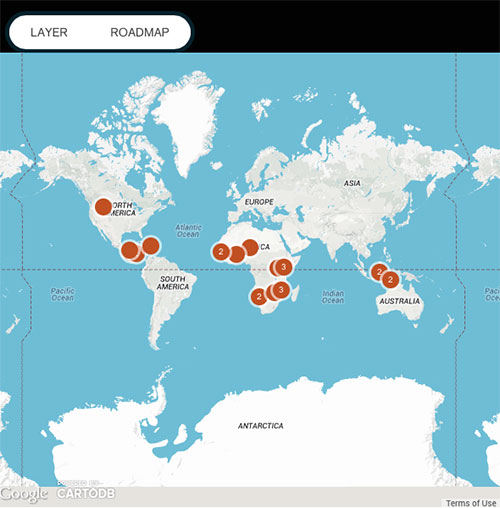 An interactive map plotting the landscape of global intervention—pin by pin, project by project—is the latest tool meant to bolster awareness and collaboration among non-governmental organizations.
NCBA CLUSA is among 86 organizations whose collective 2,940 (and counting!) projects make up the NGO Aid Map, launched last week by NGO alliance InterAction and sponsor FedEx at the 2014 InterAction Forum in Washington, D.C.
"The map aims to increase the amount of publically available data on international development and humanitarian response by providing detailed project information through interactive maps and data visualizations," according to promotional materials distributed by InterAction at the June 11 launch.
Tabs allow users to explore the site by country, sector, organization and donor. Map layers provide relevant data, such as poverty levels or malnutrition rates, giving a more complete perspective of a country's context.
The map is expected to help NGOs locate potential partners and donors, identify gaps in intervention and avoid duplication, and make smarter decisions through data analysis, InterAction staff said.
"We're excited to be part of this growing knowledge base," NCBA CLUSA COO Amy Coughenour said. "This is a huge opportunity to contribute to a comprehensive view of international development work worldwide."
Thirteen of NCBA CLUSA's featured projects center on food security, while three focus on health and another two support human rights, democracy and governance.
Currently, the map displays only those projects voluntarily submitted by InterAction members. As more organizations contribute, the map will undergo regular updates. InterAction members can log in to the NGO Aid Map at any time to add or update their data. Each project is reviewed before approval by InterAction staff to ensure that publicity won't endanger lives or create difficulties in the field.
So far, top project locations on the map are the U.S., Haiti, India and Ethiopia. Of the eighteen sectors represented, health, agriculture and economic recovery and development are the largest.
"By working with organizations who also see the value in open data, we hope to create a more complete picture of what is happening with international aid," InterAction staff said.
—Click here to learn more about NCBA CLUSA's 18 featured projects.