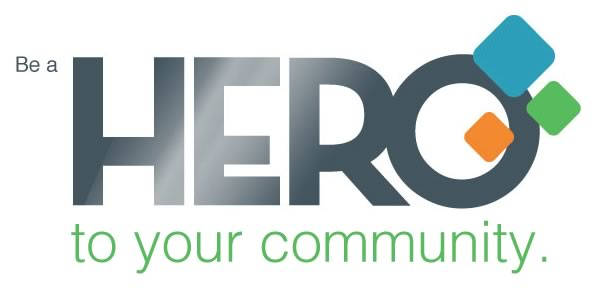 NCBA CLUSA in Search of a 'HERO' to Demonstrate Credit Union
Acts of Valor with Members in Distress
(WASHINGTON, DC) – The National Cooperative Business Association (NCBA CLUSA) has created a new possibility for generating good in the world with the Honor a HERO contest. This nationwide campaign to search for a HERO provides a public venue for a cooperative or credit union employee – or the business itself – to share a compelling story about helping members/consumers in financial distress and, in turn, helping them to help themselves.
In 200 words or less, credit unions and co-ops can share their stories of how a member of their staff or the credit union itself has been a HERO to:
an individual
a cause in their area
their entire community
This summertime campaign runs from June 24 to August 24, 2013. Written entries can be submitted online. Winners will be announced in early September 2013.
This campaign stems from the new HERO Counseling service, a Community Development Certified Financial Counseling (CDCFC) course certified by the NCBA CLUSA. HERO Counseling will help credit unions provide better financial guidance to their low-income communities – becoming HEROES to their members, board, and bottom line.
Check out HERO Counseling on Facebook, where stories will be posted of HEROES to help inspire others – along with announcing the winner.
The winning credit union receives HERO Counseling staff training, certification and software – from CU Strategic Planning and NCBA CLUSA for the entire credit union staff. Second and third runners-up receive HERO Counseling training for their department or branch of choice.
"This is a fantastic campaign that we are proud to launch to inspire cooperatives to act boldly and to empower consumers across our country," says NCBA CLUSA President and CEO Mike Beall. "As the largest group of cooperatives, credit unions have an opportunity to inspire great change in their member's lives. Co-ops and their employees do amazing work each and every day. This is a chance for these stories to be shared, for these heroes to receive recognition and to revitalize our communities. We want to highlight their stories."
"Over the years I've heard many stories about credit union employees and cooperatives that are heroes," says CU Strategic Planning Founder Jamie Chase, whose company is donating the HERO software prize valued up to $500,000. "All they have to do is share their story now. They deserved to be recognized and honored. Our company is excited to donate a very valuable prize so that their whole cooperative benefits from their heroism."
"Credit unions' people-first mission-based focus make them a hero every day in people's lives, says CU Strategic Planning President Stacy Augustine "This contest just recognizes the work that credit unions do for their members and their communities on a daily basis."
About NCBA CLUSA (ncbaclusa.coop)
The National Cooperative Business Association CLUSA International (NCBA CLUSA) is the trade association for cooperative businesses in the United States and an international development organization. NCBA CLUSA provides cross-sector education, technical assistance, and advocacy that helps co-ops thrive. For nearly 100 years, NCBA CLUSA has sought to advance and protect cooperative enterprises, highlighting the impact that cooperatives have in bettering the lives of individuals and families. In the last 60 years, NCBA CLUSA has worked in over 100 countries in the areas of food security, agricultural development, strengthening of communities and farmer organizations, community-based health, natural resources management, and empowerment of smallholder farmers, women, and youth. We currently work in 15 countries in Africa, Latin America, and Asia.
About CU Strategic Planning (www.creditunionstrategicplanning.com)
Headquartered in Tacoma, WA, with satellite offices in San Diego and Boston, CU Strategic Planning is the only strategic planning facilitator in the United States with the mission to help credit unions realize their potential through the International Credit Union Operating Principles. It is widely considered the #1 writer of credit union Community Development Financial Institution (CDFI) grant applications. No firm serving credit unions writes and wins more CDFI awards than CU Strategic Planning. Its "Miracle Makers" have 100 percent success with CDFI certification.