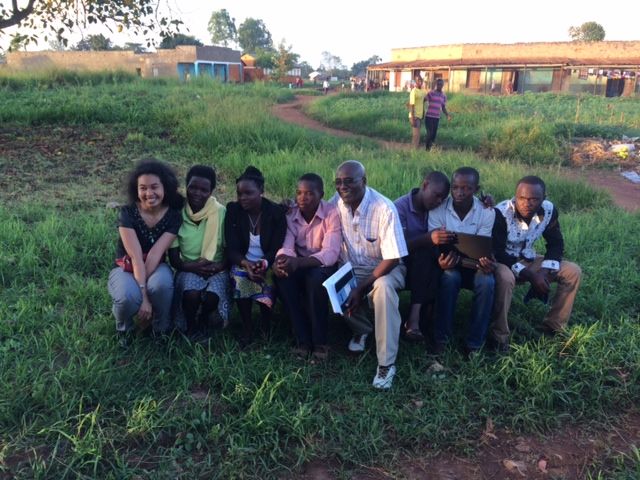 Over a two-day period in Washington, DC this month, NCBA CLUSA and other leaders in the Youth programming sector, collaborated with YouthPower, USAID and PEPFAR to inform indicator development, and advance positive youth development practice. The event launched the YouthPower Learning Network, which aims to advance positive youth outcomes in health, education, and political and economic empowerment. NCBA CLUSA has worked with youth throughout its programs, including the recently completed Yes Youth Can! Project in Kenya, which registered over 135,000 youth for voter IDs and linked over 90,000 to savings and credit cooperatives.
Currently, in partnership with the MasterCard Foundation, NCBA CLUSA is leading a consortium of partners to implement the Youth Empowerment Through Agriculture (YETA) program in Uganda. The YETA program is part of a two-country $74 million USD "Youth Forward Initiative," which includes programs in Uganda and Ghana.
MasterCard Foundation officially launched the Youth Forward Initiative at a meeting in Entebbe, Uganda earlier this month with NCBA CLUSA and other representatives from implementing partners, financial service providers, government ministries, the private sector, education institutions and youth-based organizations.
A five-year, US$74 million project, the Youth Forward Initiative will reach more than 200,000 young people, aged 15-24. It is focused on assisting youth who live on less than $2 per day, who are out of school, unemployed or underemployed and are seeking quality employment or the opportunity to start their own businesses in the growing agricultural and construction sectors, which the World Bank has flagged as industries with the highest potential for job growth. This innovative model uses a holistic approach that combines market-relevant skills training, mentorship, internships and access to financial services to help young people transition out of poverty and into sustainable livelihoods.
"The Foundation recognizes that in order for youth to reach their full potential, they must have access to the right skills and opportunities," said Ann Miles, Director of Programs, Financial Inclusion & Youth Livelihoods at The MasterCard Foundation. "By bringing together multiple partners with varying types of expertise, we can better support young people through practical skills development, networking opportunities and access to appropriate financial services so they can successfully find a job, further their education or start their own businesses."
The Youth Forward Initiative will be implemented through partnerships with four consortia comprised of 28 organizations. In Uganda, GOAL and NCBA CLUSA will lead the consortia connecting young people to employment and entrepreneurship opportunities in the agricultural sector.
"Our partnership with MasterCard Foundation is a tremendous opportunity for us to integrate more youth into our extensive network of cooperatives and associations, allowing them a safe space to explore their own entrepreneurship goals that ultimately benefit rural communities at large," said Gretchen Villegas, vice president of International Operations for NCBA CLUSA.
In addition, Overseas Development Institute (ODI) along with Development Research and Training (DRT) of Uganda and Participatory Development Associates (PDA) of Ghana have been engaged to generate critical learning about the initiative.
"The scale and scope of the Youth Forward Initiative presents an exciting opportunity to learn more about the needs of young people and how to improve economic opportunities for them across different sectors and regional contexts," said Peace Nganwa, Youth Forward Initiative Coordinator for Development Research and Training (DRT). "The learning partnership will facilitate conversation and learning between implementing partners, the private sector and government, working to ensure that research and evidence inform their decision-making."
For the YETA program in Uganda, evaluation and learning have been integrated into the program structure, informing multiple rounds of training. By the project's end in 2020, YETA is expected to have benefited a total of 100,000 youth and their families potentially reaching over half a million individuals.
YETA's consortium—NCBA CLUSA, Youth Alive, Reproductive Health Uganda, Making Cents, Aflatoun, FINCA, Finance Trust Bank and Centenary—have 142 years of combined experience in Uganda to guide their work.
(December 18, 2015)