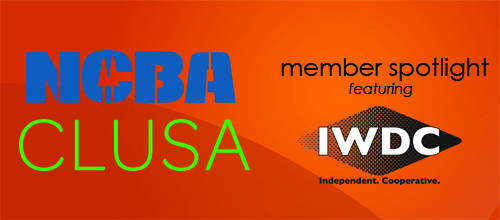 Formed in 1994 to leverage the strengths of independent welding distributor members in the U.S., Canada and Mexico, the Independent Welding Distributors Cooperative (IWDC) now boasts 650 locations across North America, more than $2 billion in retail sales and 140 owner-members. IWDC is the exclusive marketer of Weldmark products, made by the industry's leading manufacturers to meet strict specifications.
This week we talked with Frank Kasnick, president and CEO of the Indianapolis, Indiana-based cooperative, for our first NCBA CLUSA member spotlight of the year.
NCBA CLUSA: Why did IWDC choose the co-op business model?
Frank Kasnick: In 1994, two buying groups merged and the Independent Welding Distributors Cooperative was founded. Since central warehouse and centralized collection and payment were a core part of our business philosophy, members decided that shared ownership of assets was the best path forward.
NCBA CLUSA: What benefits do your owner-member gain?
Kasnick: Numerous benefits. We are able to leverage the strengths of our members, share best practices and distribute marketing resources.
NCBA CLUSA: What core values shaped your co-op?
Kasnick: Pulling together to compete more effectively with big-box chains. Knowledge and customer services serve as points of differentiation.
NCBA CLUSA: Is there a strong co-op presence in your community?
Kasnick: Yes. Indiana, and Indianapolis in particular, have quite a co-op infrastructure.
NCBA CLUSA: What advantages do you gain from being a co-op?
Kasnick: We are owned by our members, so the relationship is unique. We are looked at differently than a typical supplier. Also, being a cooperative allows for a very clear and focused mission for IWDC staff.
NCBA CLUSA: What challenges have you faced as a co-op and how have you overcome them?
Kasnick: We face member-owner business transitions, often leading to the sale of their business. We address this challenge through succession/business continuity planning and resources.
NCBA CLUSA: How has an employee gone above and beyond to serve a member?
Kasnick: Employees and members, supported by vendors, pitched in to help members impacted by Hurricane Sandy.
NCBA CLUSA: What are your co-op's plans for the future?
Kasnick: We plan to achieve continued growth, expansion in education, training and best practices migration.
NCBA CLUSA: What role do you think co-ops will play in economic resilience going forward? Are co-ops the future of sustainable business?
Kasnick: I hope that cooperatives can tap into the trend to focus on local communities and small business and help privately owned companies to thrive. However, it's important to advocate for lower spending and debt levels in the U.S. and help curb the growth of regulation to achieve this goal.
—Does your cooperative have a great story to tell? Email membership@ncbaclusa.coop to participate in our member survey!