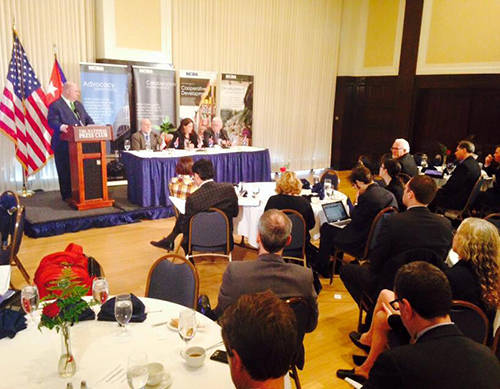 NCBA CLUSA's U.S. – Cuba Cooperative Working Group (USCCWG) is poised to support Cuba's cooperatively-owned businesses as part of the country's burgeoning private sector, and as a vital part of the global co-op movement underpinned by the 7 Cooperative Principles.
"We believe that, as the Cuban economy updates, these principles will become part of the DNA of much of Cuba's economy, and that the updates we all hope are coming—to a more democratic and open country—will be bolstered by this framework," NCBA CLUSA President and CEO Mike Beall said at a March 10 press conference to formally launch the working group.
Click here to watch the press conference.
The press conference, held simultaneously with negotiations by the U.S. Government to begin rebuilding the economic relationship between the two countries, drew the attention of Washington, D.C.-area media and officials.
Mark Wells, coordinator for Cuban Affairs at the U.S. State Department, said Cuba's independent cooperatives—part of what he called the country's "nascent private sector"—are "natural partners" for NCBA CLUSA.
"We encourage the efforts of NCBA CLUSA and others to support the Cuban people so that they create a stable and prosperous Cuba," he said.
Cuba's approximately 5,000 cooperatives are largely found—and historically rooted—in its agriculture sector, but non-agricultural co-ops have been forming since 2013, when Cuba began shifting many of its state-owned enterprises to co-ops. Cooperative member-owners in Cuba are gaining a newfound sense of ownership and greater economic independence in the process, members of the working group said.
The conversion was "profound" for many of the cooperative workers the USCCWG met with during its exploratory trip to Cuba in July 2014, said Amy Coughenour, NCBA CLUSA COO for International Development.
"At first, there was skepticism and, as you can imagine, fear, but a year into this update and their member-ownership, there's a lot of optimism," Coughenour said. "Some of these workers told us that they have doubled and tripled their salaries."
The Cuban government is currently analyzing the economic role of cooperative enterprises in the country, and is expected to develop a definitive law by 2016 to better clarify the commercial environment, said Eric Leenson, president of Sol 2 Economics and a USCCWG member.
In the U.S., lawmakers have introduced about a dozen legislative initiatives in Congress, largely to ease travel and trade between the two countries, said NCBA CLUSA Vice President for Advocacy Alan Knapp.
"While we have recognition from the Department of Treasury and the Department of Commerce that these Cuban co-ops are part of the nascent private sector, we need to continue to work with folks on the Hill and within the Administration on three things: continued recognition that co-ops are legitimate private businesses playing a key role in opening up Cuba, that they are eligible under the regulations and that they achieve parity with other businesses," Knapp said.
The USCCWG is also interested in the role credit unions in Florida could play in helping establish "secure and consistent" financial services in Cuba, said Patrick La Pine, president and CEO of the League of Southeastern Credit Unions and Affiliates.
"When it comes to emerging economies like Cuba—especially when it comes to financial services—they need to put new laws and regulations on the books, and you can imagine that they've never really had certain experience with advocacy and learning how to communicate effectively with their national officials," La Pine said.
Poland, a formerly Communist state, now enjoys a thriving credit union system that can serve as a model for Cuba, he added.
Still, challenges remain. The need for more democratic and open leadership of Cuba's co-ops is on the horizon, Coughenour said, and the lack of agricultural supplies, such as seeds and fertilizer, is an immediate concern and "major constraint" to the growth of the cooperative sector, she added.
Leenson acknowledged frustrations with the pace and process of change in Cuba, but noted how "bold" and "experimental" the change is. Cuba, he said, "is embarking on creating a cooperatively-based economy to a larger extent than we're seeing in any other place in the world."
He continued, "If Cuba can figure out how to use cooperatives on that scale effectively—as a dynamic part of the economy that really protects local interests—then that increases the benefits to the actual producers and consumers in Cuba, and, I think, benefits all of us."