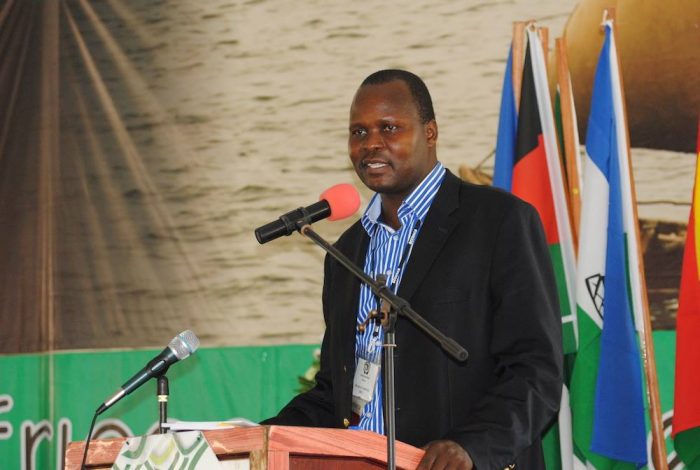 Last month credit union, or "SACCO," leaders from 24 countries convened in Kwale County, Kenya for the 16th Annual Savings and Credit Cooperative Associations (SACCA) Congress, touching on topics from access to finance to bolstering the cooperative sector in Africa. Representing NCBA CLUSA, Carilus Ademba, along with senior NCBA CLUSA staff Joyce Wafula attended and spoke.
Presenting on findings from a recent survey of the needs of African SACCOs in engaging with agriculture, development and youth, Carilus Ademba challenged congress attendees to think of financial services from the farmers' perspective.
"SACCO strategy should be anchored in the challenges farmers face," said Ademba."We need to allow farmers to concentrate on production," he continued, noting that access to financial services should be solved from the credit side and not a burden for the farmer.
Bill Cheney, CEO of NCBA CLUSA member Schools First Federal Credit Union in Santa Ana, California also spoke about Africa's development and the role that SACCOs can play to reach vulnerable populations.
Across the continent, 18 million Africans, representing almost 20 percent of the population, are members of savings and credit cooperatives (SACCOs), also known as credit unions in the U.S. The annual SACCA Congress brings top leaders across the industry together to share best practices and promote the cooperative model.
Presenting on NCBA CLUSA's work across Africa with producer organizations and SACCOs, Joyce Wafula exemplified how SACCOs could support household economic strengthening and food security projects by opening their membership to entrepreneurs and agribusiness service providers, as well as youth. These partnerships have already proven successful in NCBA CLUSA's programs such as Yaajeende in Senegal, UCFI in Uganda, and PROMAC in Mozambique. Through increased yields with conservation farming techniques farmers can save as little as $1 to $20 a month at the organizational level, which can eventually form a marketing co-op or SACCO.
The 2015 SACCA Congress, sponsored in part by NCBA CLUSA, was hosted by the African Confederation of Cooperative Savings and Credit Associations (ACCOSCA), which empowers the SACCO sector in Africa to improve livelihoods in accordance with cooperative principles. "There is a need to promote savings and investment in Africa, and who better than coops to enable this agenda," said ACCOSCA representatives in a tweet promoting the congress.
(November 10, 2015)