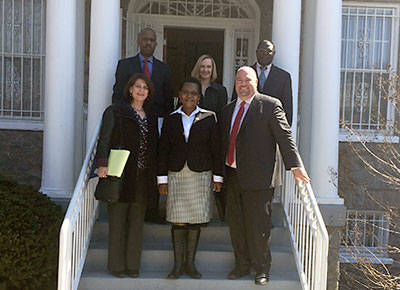 NCBA CLUSA senior leadership has begun a specific and strategic initiative to open lines of communication and create linkages between NCBA CLUSA and the embassies representing countries in which the organization works.
On March 23, NCBA CLUSA president and CEO Mike Beall and a team from the organization's Washington, D.C.-based headquarters met with Ambassador Oliver Wonekha and Deputy Chief of Mission Alfred Nnam at the Ugandan Embassy in Washington, D.C.
NCBA CLUSA provided Ambassador Wonekha and staff with an overview of its current work in Uganda, including highlights from the USDA-funded Uganda Conservation Farming Initiative, now in its final months of implementation. The embassy team also heard an outline of the newly signed Youth Empowerment Through Agriculture (YETA) project funded by MasterCard, Beall said.
During a similar meeting with Ambassador Babacar Diagne of Senegal, Beall and NCBA CLUSA COO for International Development Amy Coughenour presented the impact of NCBA CLUSA's USDA-funded Millet Value Chain project and USAID-funded Yaajeende project—widely seen as a pioneer in nutrition-led agriculture.
NCBA CLUSA also hosted embassy staff from Kenya last month, along with Joyce Wafula, NCBA CLUSA chief of party for Kenya, and Carilus Ademba, outgoing head of Kenya's Savings and Credit Cooperative (SACCO) regulatory commission. Five days of visioning work at NCBA CLUSA headquarters with the business development team resulted in a clear path for the organization's way forward in Kenya that will create jobs, increase the scale of NCBA CLUSA's operations in the country and secure the future of thousands of Kenyan youth bunges currently poised to lose their financial backing.
The country's bunges, or democratic youth groups, are serving as a powerful counterweight to widespread apathy, unemployment and post-election violence, all while grooming the country's next generation of leaders.
"One of the biggest takeaways for the embassy teams we met with is learning how our work is positively impacting the most vulnerable populations in their countries," Beall said. "They are pleased to learn that we are addressing some of the most daunting challenges these communities face."
NCBA CLUSA Vice President of Advocacy Alan Knapp is working with senior leadership to institutionalize communication with host country embassies, Beall continued, making it a permanent part of the organization's outward advocacy efforts.
Such meetings, Coughenour said, allow NCBA CLUSA to engage with and inform embassy staff, many of whom are unaware of organizations with long-established work in their countries.
"Most of the countries in which we work are interested in trade relations, commerce, foreign aid and development," she said. "With that knowledge, we can not only be an actor in development, but also a liaison for companies and organizations wishing to invest in agriculture, health, infrastructure and other critical areas."
NCBA CLUSA is poised to partner with agriculture companies, particularly those from the U.S., that are interested in sourcing agriculture products from host countries, Beall said. "We hope that [the embassies] will begin to think of us as on-the-ground implementers working directly with farmers to improve their livelihoods and connect them to wider markets," he said.
Uganda Impact
The impact data presented by the NCBA CLUSA team indicates that, of 21,351 Ugandan farmers surveyed, more than 17,700 have increased their yields by between 15 and 75 percent. Of those farmers, more than 10,000 who adopted the conservation farming principles of minimum soil disturbance, organic soil cover and crop rotation increased their yield by 35 to 54 percent, while close to another 5,000 saw gains between 55 and 74 percent.
"These are 'superfarmers,'" Beall said he told the embassy team. "They have a business plan, they understand what their implements cost and they know how to maximize their yields."
Farmers who added fertilizer to the mix saw even more substantial gains, earning $199 in profit per kilogram produced. Meanwhile, farmers practicing traditional farming methods without applying fertilizer in the same districts of Uganda lost $157 in profit per kilogram produced.
Senegal Impact
By its completion, NCBA CLUSA's Yaajeende project will have improved food security and nutrition for more than 1 million people across 60 rural communities of Senegal by increasing the quantity, quality, price of, access to and consumption of nutrient-dense foods, such as orange-flesh sweet potatoes. The project has reduced the prevalence of acute malnutrition in children under five by 25 percent and reduced by 59 percent the number of households that consume fewer than two meals per day.
NCBA CLUSA has been active in Senegal for more than a decade in the areas of agriculture development, natural resource management, food security and nutrition, conservation farming, women's economic empowerment and rural agriculture as a business, Coughenour said.
(April 5, 2015)