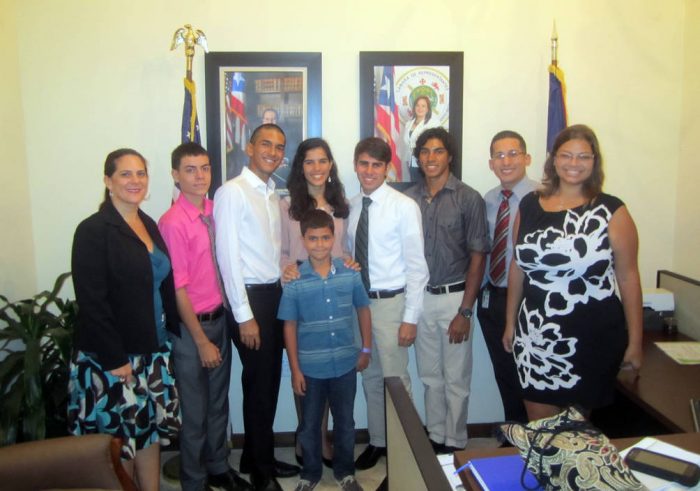 NCBA CLUSA Supports Youth Cooperative Movement Before
Puerto Rican House of Representatives
(SAN JUAN, PUERTO RICO)—In a meeting with the Commission on Cooperatives and Non-profit Organizations today in San Juan, NCBA CLUSA Chief Operating Officer, Amy Coughenour Betancourt, supported a newly formed youth cooperative—Coopare— focused on advancing youth development and leadership among Puerto Rican youth. The meeting with the Commission was intended to promote the mission of Coopare and seek resources and support.
"Puerto Rico has a rich and long history in the cooperative movement, and in many ways, has been a pioneer. However, it is important to continue to foster the next generation of leaders, and Coopare is a great vehicle for this," explains Coughenour.
Coopare focuses on the development of the arts, recreation, and business among youth. It formed with the support of COSIANI, an early childhood education services cooperative that provides professional development, training, and services within the early childhood education field.
Coopare got its start by addressing two particular needs—first, the need for quality summer camps for children, and the need for Puerto Rican youth to develop job and leadership skills. They worked with COSIANI to support its network of summer camps by recruiting and vetting youth volunteers. These camps are carried out in collaboration with the housing cooperative sector.
As Coopare developed, it recognized the need for leadership training and the provision of services to organizations interested in reaching the youth segment. It began delivering workshops, training, and other outreach services to help young people develop their skills.
Now, the 42 youth member owners of Coopare have a bigger vision. "We want to bring together the youth cooperatives around Puerto Rico and create a network of cooperative development and leadership," shared Coopare's President, Jan Milton Bayón. DeMarie Valentin, Director of COSIANI added: "This vision includes learning from one another and connecting with other youth cooperatives in other parts of the world."
"The potential of this group is tremendous," stated Michael Rivera de Jesus, technical officer of the Commission. "There is a big demand for the services that they provide."
"NCBA CLUSA's role today is to lend our organization's voice in support of this youth-led effort, just like we do in many other parts of the world, such as Kenya, Mozambique, and 13 other countries," stated Coughenour. With the support of the Commission and the rest of the cooperative community in Puerto Rico, I believe Coopare can have a very bright future."
The National Cooperative Business Association CLUSA International (NCBA CLUSA) is the apex association for cooperative businesses in the United States and an international development organization working in areas such as food security, climate-smart agriculture, and cooperative development. NCBA CLUSA provides cross-sector education, support, and advocacy that helps co-ops thrive. For nearly 100 years NCBA CLUSA has sought to advance and protect cooperative enterprises, highlighting the impact that cooperatives in bettering the lives of individuals and families. In the last 60 years, NCBA CLUSA has the improved economic and social well-being of millions of farmers and their families in over 100 countries.