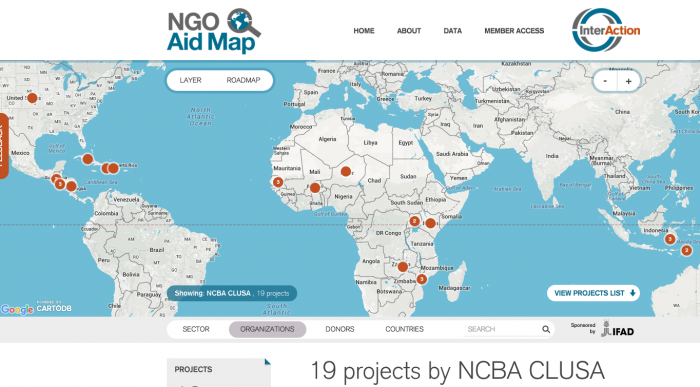 Following more than a year of competition and data submissions from 30 organizations, NCBA CLUSA is the winner of InterAction's Data Quality Award, based on participation and data transparency with the Global NGO Aid Map project, a part of the International Aid Transparency Initiative. Working on providing quality data to the project since June 2014, NCBA CLUSA was the top data provider, leading by example in promoting data transparency through use of the NGO Aid Map tool.
The distinction comes with a $10,000 dollar unrestricted prize, which NCBA CLUSA will dedicate to monitoring and evaluation initiatives to further promote the collection of quality data and support transparent dissemination and analysis. NCBA CLUSA received a score of 102 out of a possible 105 points with perfect scores in the timeliness, comprehensiveness and completeness categories.
Data availability, quality and transparency are important topics for the international development community, which is putting more emphasis on accurately reflecting impact on the ground. Through exemplifying best practices, and use of aggregate tools like the Aid Map, data can be easily digested by the public and put into a broader context of industry impact on the whole.
"We are excited that we have great organizations like NCBA CLUSA dedicated to providing quality information to the site, making it a more useful tool," said Julie Montgomery, Director of Innovation and Learning at InterAction and head of the NGO Aid Map.
While many organizations report impact and funding on their own systems, being able to aggregate data across the development community is important for promoting best practices and sharing industry-wide impact. NCBA CLUSA supports the aid transparency movement, spearheaded by InterAction for the NGO community, and has been leading by example in integrating data with systems like the NGO Aid Map.
"Data quality and transparency is a current priority for NCBA CLUSA," said Amy Coughenour, COO for International Programs. "Good data informs quality programming and supports the dissemination of best practices. This is important for our own learning as well as the donor community and other key stakeholders."
Beyond individual organization's data transparency, the call for aid transparency also asks governments and donors to accurately represent their international aid data. NCBA CLUSA applauds the recent focus on aid transparency and data quality in the U.S. Government's Open Government Partnership (OGP) National Action Plan (NAP) as part of their commitment to the International Aid Transparency Initiative. This is the third time a commitment on aid transparency has been included in the national plan for the OFP.
Governments and civil society can work together to support "evidence-based, data-driven approaches to foreign aid" (NAP 3.0). This starts not only with the collection of quality data, but the availability and dissemination across platforms. Data is only useful if the information can be understood and easy to access.
NCBA CLUSA is proud to lead by example and to have been selected for the NGO Aid Map's Data Quality Award. The organization applauds InterAction's efforts to highlight data transparency and cross-industry data quality through this and similar initiatives.
The award will be presented on November 17th as part of an event on the importance of aid transparency: "NGO Aid Data and Transparency: So What?" in Washington, DC. Join NCBA CLUSA, InterAction and other leaders in the NGO aid transparency movement for lunch and discussion by registering for the event here.
(November 10, 2015)