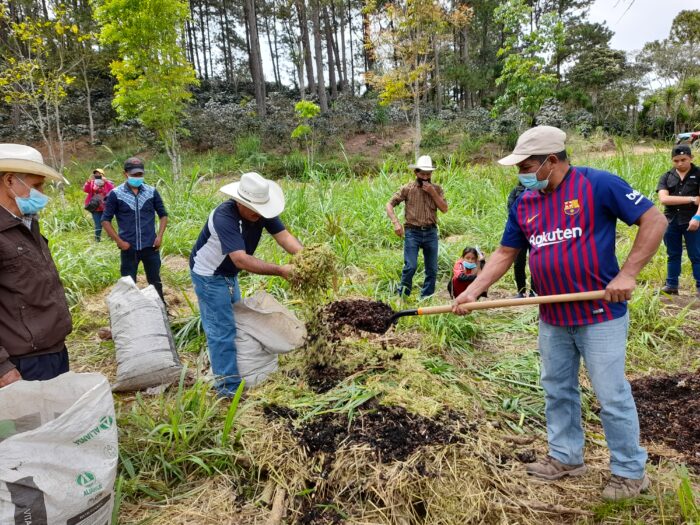 In farming, environmental sustainability means having the capacity to meet current production needs without compromising the ability of our future generations to do the same. Yet, achieving this can be challenging because agriculture is responsible for one of the largest environmental footprints on the planet. Therefore, practicing climate-smart agriculture is pivotal in allowing farmers to generate profits without causing damage to the environment. For coffee and cacao farmers in Latin America, this commitment to sustainable practices often means becoming organic certified, using organic fertilizers to improve soil health and implementing integrated pest management practices to combat the spread of diseases.
In honor of Earth Day this year, NCBA CLUSA's Farmer-to-Farmer program is recognizing some of the cooperatives and volunteers who are working to reduce the environmental footprint of farming. From becoming organic certified to practicing climate-smart agriculture, our partners are proving they can meet production needs and preserve the environment for future generations.
NCBA CLUSA's Farmer-to-Farmer program has been recruiting volunteers for both virtual and in-person assignments in Ecuador, Peru, Honduras, and El Salvador since 2018. Since then, the program has completed 24 environmentally sustainable assignments, a vast majority of them related to organic certification. In Latin America, becoming organically certified is on the rise as it means reduced environmental impact, and market expansion opportunities of close to 20-30% higher crop value. Organic certification also allows indigenous groups to utilize traditional farming practices and comply with ancestral agroforestry systems while also remaining competitive in the international markets. Since the start of the program, host organizations from Ecuador, Honduras, and Peru have received several organic certification trainings.
Since then, the program has completed 24 environmentally sustainable assignments, a vast majority of them related to organic certification.
The Tsatsayaku Association in Ecuador is a prime example of an indigenous group who received training from Daniela Ortega, local volunteer, and Charlene Nash, U.S. volunteer, on organic production in compliance with USDA NOP (National Organic Program) and EU organic regulations. By the end of this assignment, the association was able to develop their own organic fertilizers from local waste, make organic pesticides and utilize conservation soil practices such as contour lines in slopes to reduce erosion.
In Honduras, volunteer William Zimmerman assisted members of COARENE to develop a crop production and soil fertility plan, after members had noticed low productivity in their coffee plants. Members received training on how to locally source materials at low cost, and the overall benefits of organic fertilizer. Organic fertilizers such as compost and manure play a key role in the preservation of soil health by promoting microbial growth and water retention. Use of chemical fertilizers can be costly and cause nutrients leaching from the soil, reducing soil health.
Additionally, typically coffee and cacao monocultures, plagues and diseases pose a massive risk to farmer livelihoods. When a monoculture is affected by a disease or plague, the farmers most at risk are the ones that do not possess the knowledge to control such diseases. Many of these farmers are required to comply with organic certification practices, meaning that use of any pesticides or fungicides is out of the question and limited knowledge on the use of integrated pest management can leave farmers uncertain about the fate of their farms. The NCBA CLUSA Farmer-to-Farmer program has implemented seven integrated pest management assignments to date, focused on minimizing the impact of crop diseases by using cost efficient biological controls compliant with organic production. During 2021, local volunteer Ada Martinez Ayala and U.S. volunteer Angela Rovnyak trained Asociacion de Servicios ASPROVAC in Peru on the identification of plagues leading to the preparation of a manual providing guidance on biological pest controls.
Thanks to the assistance of our Farmer-to-Farmer volunteers, cooperatives can continue to engage in sustainable practices that reduce the environmental footprint of farming. Earth Day serves as a reminder of the importance of environmental awareness and our duty as civilians to preserve the environment for our future generations. This Earth Day, if you find yourself interested in learning more about Farmer-to-Farmer's contribution to sustainable living, look at the articles below or check out some of our upcoming volunteer opportunities.
Volunteer opportunities: 
NCBA CLUSA Farmer-to-Farmer Organic Fertilizer Expert | SmartRecruiters
NCBA CLUSA Farmer-to-Farmer Organic Pesticides and Biofertilizers Engineer | SmartRecruiters
NCBA CLUSA Liquid Organic Fertilizers Specialist | SmartRecruiters
NCBA CLUSA Farmer-to-Farmer Agronomist (Soil Nutrition) | SmartRecruiters
NCBA CLUSA Farmer-to-Farmer Soil Substrate Specialist | SmartRecruiters
https://ncbaclusa.coop/blog/hybrid-farmer-to-farmer-assignment-provides-e-commerce-workshops-and-trainings-to-a-cooperative-in-peru/
https://ncbaclusa.coop/blog/farmer-to-farmer-volunteers-support-business-development-plans-for-a-cooperative-in-peru/
https://ncbaclusa.coop/blog/a-virtual-assignment-opens-a-small-association-to-the-world-of-effective-sales-and-marketing-in-ecuador/
Past impact:
https://ncbaclusa.coop/blog/farmer-to-farmer-volunteers-teach-sustainable-composting-practices-to-association-members-in-the-ecuadorian-amazon/
https://ncbaclusa.coop/blog/support-sustainable-organic-farm-management-in-peru-by-volunteering-with-farmer-to-farmer/
https://ncbaclusa.coop/blog/farmer-to-farmer-assignment-helps-a-co-op-in-peru-grow-higher-yields-and-positively-impact-communities/