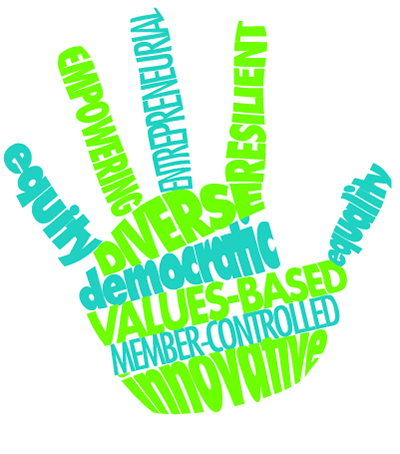 In collaboration with the International Co-operative Alliance and Domains.coop, the National Cooperative Business Association CLUSA International (NCBA CLUSA) is pleased to announce the launch of a consumer awareness initiative specifically for cooperatives, "OwnIt: Your Work. Your Identity."
The OwnIt campaign will provide cooperatives in the U.S. both digital and paper resources to help communicate the value of their co-op identity to members and consumers. The campaign website (www.ownit.coop) features an expanding toolkit including videos, templates, posters, flyers, social media graphics and sample copy that highlights the value of using the .coop domain and the COOP Marque as effective tools co-ops can use to differentiate themselves from other types of businesses.
Along with the ability to apply for a .coop domain, the COOP Marque and NCBA CLUSA membership, the site will feature a blog where readers can submit stories and events about their cooperatives. In 2016, NCBA CLUSA anticipates the launch of an interactive forum that will provide a platform for connecting cooperatives and members across all sectors.
"We've designed this campaign and website to be multi-use, with the ability to evolve to meet changing needs," said Patricia Sterner, COO for Domestic Initiatives at NCBA CLUSA. "Ownit.coop is now the primary resource for co-ops to easily find tools, templates, techniques and tips on communicating the value of a .coop and the COOP Marque—and really, the co-op business model—to members and customers in the marketplace. As people begin to understand the power of cooperatives, and the brand and platform grow, we see it becoming a vehicle for members and consumers of co-ops to get engaged with, participate in and provide support for both their local co-op and the entire movement."
With U.S. consumers now familiar with trust marks like Non-GMO, Fair Trade and USDA Organic on food products and momentum behind the "Shop Local" movement, John Torres, Director of Communication and Public Relations for NCBA CLUSA, believes that cooperatives are in an ideal position to elevate awareness of the co-op business model by using the .coop domain and COOP Marque.
"Retail label trust marks are sought after by consumers, helping them to make better informed decisions," he said. "Using the COOP Marque is the natural next step for co-ops to communicate their cooperative identity and we expect to see it everywhere. When co-ops can talk together about the .coop domain as THE place of business for cooperatives and when co-ops can talk together about the Marque as THE mark of a transparent, ethical and democratically run business, that's when change happens in the minds of the consumers. OwnIt is an initiative that all cooperatives can use and draw common language from to communicate these differences—while still maintaining their uniqueness. NCBA CLUSA is actively supporting this initiative on behalf of our members and with our partners at Domains.coop and the ICA."
Violetta Nafpaktiti, COO for Domains.coop, released a joint statement with Nicola Huckerby, Marketing Lead for Identity.coop, on behalf of the ICA, endorsing the OwnIt campaign and encouraging U.S. cooperatives to join together under the .coop and COOP Marque banners to highlight both their work and their identity as cooperatives.
"We couldn't be more pleased to be part of this exciting initiative for U.S. cooperatives," they said in the statement. "As millennials look for new ways to empower themselves in their careers and alternative economic ideas are gaining traction, co-ops are the perfect and ready-made solution for people to jump in and get involved. All it takes is for them to understand WHY co-ops do what they do and that is what OwnIt is all about."
NCBA CLUSA is the member association for cooperative businesses in the United States and an international development organization. NCBA CLUSA provides cross-sector advocacy, education and technical assistance that helps cooperative businesses thrive. Celebrating 100 years of cooperation in 2016, NCBA CLUSA seeks to advance and protect cooperative enterprises, highlighting the impact that cooperatives have in bettering the lives of individuals, families and communities. Since 1953, NCBA CLUSA has worked in more than 85 countries in the areas of cooperative development, food security and nutrition, agricultural development, community-based health, natural resources management, and empowerment of smallholder farmers, women and youth. NCBA CLUSA currently implements projects in 18 countries in Africa, Latin America and Asia.
Domains.coop Ltd. is an accredited domain name registrar, based in the United Kingdom. The business is a subsidiary of the International Co-operative Alliance (ICA) and dedicated to promoting, managing and supporting the .coop domain name registrations from co-operatives across the world. In late 2013, the ICA launched the Global Co-operative Marque, which has been promoted jointly with .coop byDomains.coop.