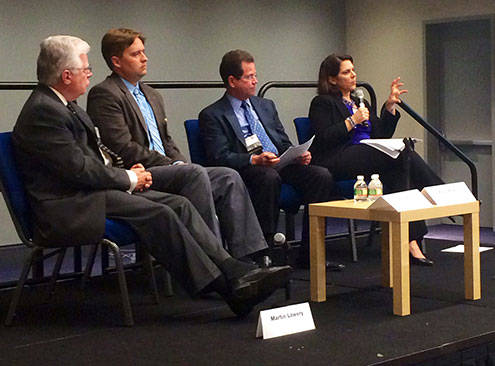 InterAction Forum attendees who participated in NCBA CLUSA's workshops last week expressed a keen interest in engaging the cooperative sector in sustainable international development, organizers said.
"The group was engaged and interested in deepening their knowledge of the cooperative business model," said Amy Coughenour, NCBA CLUSA COO for International Development.
The annual InterAction Forum brings together leaders from non-profits, governments, philanthropy, corporations and civil society to advance collaboration, effectiveness and innovation in the fight to end poverty and secure a more sustainable and equitable future.
A panel of cross-sector cooperative experts convened by NCBA CLUSA headed up the June 12 workshop, called "Model for the Future or Vestige of the Past? Engaging the Cooperative Sector as an Effective Partner in Sustainable Development." Moderator Paul Hazen, executive director for the Overseas Cooperative Development Council, led the discussion.
Coughenour explored the role of agriculture cooperatives in reducing poverty worldwide. Four million farmers in Egypt, 924,000 in Kenya and 900,000 in Ethiopia already earn income from membership in agricultural cooperatives. Another estimated 500 million farms worldwide are family-owned, making "the potential for [further] aggregation huge," she said.
Coughenour also addressed how the cooperative sector is innovating to overcome challenges such as climate change and governance issues.
Saul Wolf, Product and Program manager for the World Council of Credit Unions, explored the future of the financial industry. "Technological change is a tidal wave that financial cooperatives need to prepare for," he said, urging credit union leaders to capitalize on the ensuing opportunities. Replacing cash and paper generates "enormous" operational efficiencies, he said, and data mining invites customized products and services for members.
Martin Lowery, executive vice president for External Affairs at the National Rural Electric Cooperative Association (NRECA), offered cooperative solutions to energy and renewables worldwide. Already, cooperatives provide 100 million people in more than 40 developing countries access to safe, reliable and affordable electricity, Lowery said.
Still, 60 percent of Africans go without electricity. The NRECA is supporting the Electrify Africa Act and Power Africa Initiative, Lowery said, to help change that. Electricity transforms communities, he added, affecting the success and availability of healthcare, water quality and even education.
In the audience discussion that followed, a workshop participant from Syria noted that cooperatives are politically aligned with the current regime in her country, so their influence and potential for growth is "very limited." It is impossible to independently create a co-op in the country, she said.
Still, "the idea of ownership and responsibility resonates with a lot of people," said Sarah Durso, senior program manager for NCBA CLUSA. The critical element is creating a favorable setting for cooperative development.
One important way to build trust and an enabling environment is to enlist the support of village and religious leaders in the planning and organization of a prospective co-op, workshop participants agreed. Discussion with local leaders also provides cooperatives the opportunity to better explain the benefits of the business model.
"You need that buy-in and consensus before you can even start," Durso said.
Coughenour asked what the cooperative movement could do to strengthen ties with the international development community and promote the business model worldwide, especially in rural communities.
Several participants said that the definition and connotations of the word "co-op" in the public eye could use some tweaking. Cultural sensitivity was another suggestion—in a male dominated society, a woman's-only co-op may not receive welcome, one participant said.
Another participant said he would conduct a comparative analysis between cooperatives and corporations in the region before choosing a business model. "Does one have better access to technology and resources? If the government supports cooperatives, I might go that direction, but if there is disdain for co-ops, I probably wouldn't."
A pre-workshop survey revealed that 31 percent of the workshop participants are members of a co-op, while 57 percent said their organization works with co-ops. A post-workshop survey indicated growing interest in the sector:
•     93 percent would consider using the cooperative model to establish a business
•     94 percent believed cooperatives should be promoted to further development goals
•     70 percent said cooperatives are effective partners; 30 percent said they are sometimes effective
•     100 percent indicated a desire to learn more about partnering with cooperatives for development
NCBA CLUSA's June 11 workshop built an understanding of values-based management concepts and their practical application. Facilitators Coughenour and Alex Serrano, NCBA CLUSA vice president of Program Development, led a discussion on how leaders define their values, get buy-in from staff, implement values consistently and translate those values to better outcomes.
"Values-based Management: Translating Personal and Organizational Values into Results" also explored the process of gaining a clear picture of values, communicating values effectively and aligning individual, team and organizational practices and behavior to fit those values.
Values provide the basis for judgments about what is important for the organization to succeed in its core business, Coughenour and Serrano said. Shared values should always guide decision-making, they said, but especially during a crisis.
"In a business that relies on self-motivation, commitment, integrity and trust, it is critical for NGO leaders to not only internalize how their own values drive them, but also how to translate this into clearer organizational values, daily actions and better results," Coughenour said.