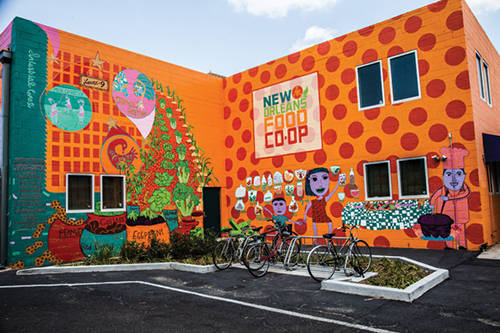 The New Orleans Food Co-op is the first recipient of grant funds distributed by ASI Federal Credit Union, which recently won a $3 million federal grant for a revolving loan fund. According to this article published by The Times Picayune, the Harahan, Louisiana-based ASI FCU is one of a dozen financial institutions with a focus on community development to win federal money in the initial round of grants awarded through the Healthy Food Financing Initiative, a U.S. Department of Treasury program in step with the Obama Administration's efforts to increase access to healthy, affordable food in underserved communities. The Credit Union National Association shared this press release:
In 2011, ASI Federal Credit Union received grant funds as a community development financial institution (CDFI) to help wash out food deserts in New Orleans. The $324 million-asset credit union's first partnership through that program is a local food co-op.
In the wake of Hurricane Katrina, New Orleans and its residents have struggled with securing high-quality food, an ironic dichotomy given the city's deep history of eclectic cuisine.
To combat this problem, ASI has packaged the $3 million it received in CDFI grant funding to create a revolving loan fund that will go towards strengthening food distribution in the low-income areas of New Orleans.
The New Orleans Food Co-op, a local organization that strives to provide accessible, local, healthy food at a fair price to the community, was announced recently as the first business that the credit union has partnered with to address this issue.
"ASI's mission is to strengthen the financial health of underserved communities through financial services and education," said Mignhon Tourne, ASI FCU president and CEO. "When we can strengthen the financial health of our communities through partnerships with businesses that are improving residents' quality of life, it's a win-win for everybody."
The credit union's Healthy Food Financing Initiative (HFFI) has already provided more than $1.5 million in low-interest loans to myriad businesses working to abolish food deserts in their communities.
The program aims to ramp up the availability of nutritious food in the areas surrounding the Orleans, Jefferson and St. Tammany parishes that often lack such access.
Meanwhile, ASI FCU continues to look for additional opportunities to partner with local businesses that will help further its mission.
Projects that can be funded through the HFFI program include:
• Community gardens with market stands
• Supermarkets
• Farmers' markets
• Co-ops
• Urban farms
• Healthy corner-store initiatives
• Bakeries
• Healthy food restaurants with an emphasis on locally sourced or organic foods
Funds can be used for inventory, equipment, property purchase or renovation, construction, land acquisition and refinancing business debt.