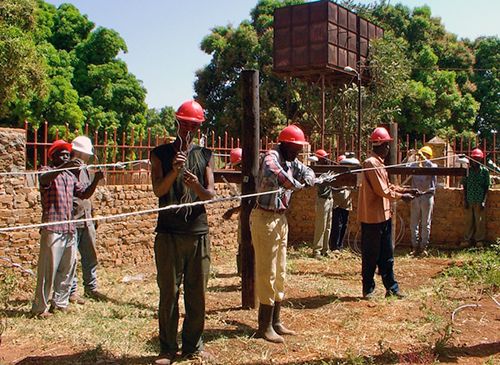 The U.S. House of Representatives last week passed the Electrify Africa Act (S. 2152), with strong support from the National Rural Electric Cooperative Association (NRECA). The Senate passed the legislation unanimously last month, and the bill now heads to the president for his signature. The bill encourages public-private partnerships that will bring electricity to 50 million people in sub-Saharan Africa and help lift impoverished African communities out of subsistence living.
"NRECA began a program to bring electricity to rural residents in developing countries more than 50 years ago during the Kennedy Administration," said NRECA Interim CEO Jeffrey Connor. "Thanks to the leadership of House Foreign Affairs Committee Chairman Ed Royce (R-CA) and Ranking Member Rep. Eliot Engel (D-NY), this bipartisan bill will make it possible for 50 million people in Africa to have access to electricity by 2020. With the continued support of America's electric cooperatives, we look forward to expanding the benefits of power to rural areas around the globe."
"African leaders increasingly recognize that access to reliable and affordable electricity is critical to stimulate local income generation and overall economic growth," said Dan Waddle, NRECA International senior vice president. "Everyone benefits from unlocking the potential of peri-urban and rural communities in Africa, which is not possible without electrification."
NRECA's international affiliate—NRECA International—has worked in developing countries since 1962. Its global commitment has provided electricity to more than 110 million people in 43 countries. NRECA International currently implements electrification projects in Ethiopia, Liberia, Sierra Leone, Tanzania, South Sudan and Uganda.
The National Rural Electric Cooperative Association is the national service organization representing more than 900 private, not-for-profit, consumer-owned electric cooperatives in the United States. Those co-ops provide service to 42 million people in 47 states.