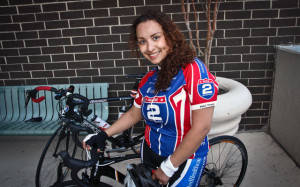 Representing the interests of more than 900 electric cooperatives across the U.S., the National Rural Electric Cooperative Association provides retail electric service to more than 42 million consumers in 47 states. NRECA recently published this story about their support of Ride 2 Recovery, a non-profit that backs the health and wellness of recovering veterans through cycling:
Staff Sgt. Melissa Martinez's wounds are not visible; she refers to them only as the "mental challenges" she suffers—the result of a head injury sustained in Kuwait.
Describing herself as "the little engine that could," the member of Rappahannock Electric Co-op joined 200 injured war veterans in a week-long, 350-mile trek from Washington, D.C. to Virginia Beach, Virginia. It's all part of the 2014 UnitedHealthcare Memorial Challenge, an event put on by Ride 2 Recovery, a national non-profit that uses cycling to heal veterans' physical and emotional wounds.
The program, a recipient of financial and volunteer support from the National Rural Electric Cooperative Association (NRECA) is intended to give vets, who come from all over the country, structure and a sense of purpose.
Joining Martinez at the starting line on Memorial Day were two triple-amputees—missing all or parts of two legs and one arm—warming up, testing the gears and brakes on their adaptive bikes, which have retrofits such as hand pedals. Along the journey, if a vet needed extra help, a fellow cyclist was on hand to give them a push.
Even then, "you could tell sometimes the pushers weren't doing a lot of work," said NRECA national director Greg White, CEO of Northern Neck REC in Warsaw, Virginia, an "honor" participant during the race's second day, a 50-mile route from Manassas to Fredericksburg.
"I've never participated in a branch of the military," White said. "So it was an honor to be part of something to help veterans."
The road to recovery
Verbalizing war experiences is a big part of the healing process, R2R officials will tell you. Some of the riders still can't talk about their combat experiences with outsiders—reporters included. Yet the encouragement found by Martinez and fellow rider Adam McCann, a member of Lorain-Medina REC in Wellington, Ohio, has opened them up.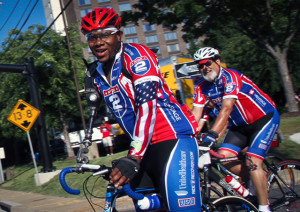 McCann was wounded in Iraq in April 2005 when shrapnel from mortar explosions lodged in his neck and legs. He received a medical discharge from the U.S. Marine Corps nearly a year later. The retired lance corporal has completed "quite a few challenges," including three or four memorial rides since then, losing more than 70 pounds in the process.
McCann, who speaks haltingly, sticks with the long rides "just to keep improving, to help and provide leadership to the newer guys and gals returning and to instill in them what I've gotten from the program."
Showing support
R2R bestows a sense of purpose upon its scores of volunteers, too. As cyclists made their way along some electric co-op service areas, co-op employees and others in the community showed up to lend their support.
On the ride's second day, schoolchildren and their teachers lined the route, waving and cheering the riders zooming past them. Further down the road, firefighters stood at attention.
"It's not often that a group of cyclists gets police escorts down major highways," said Maria Wimsatt, an NRECA International Foundation associate, and another honor ride cyclist. "I'm used to cars honking and shouting at me to 'get off the road,' not cheering and supporting the valor and bravery of the spectacular group we had the fortune to ride with."
Before Martinez began the race, she talked about the importance of "finding something you are able to do and to surround yourself with support."
In this program, that is exactly what she found. While she admitted in past races to not being able to keep up, this time she completed the challenge—just like she said "the little engine" could.
—by Victoria A. Rocha/ECT staff writer