FOR IMMEDIATE RELEASE
Obama Tours Food Security Projects in Senegal Highlighting NCBA CLUSA's Work in Feed the Future Initiative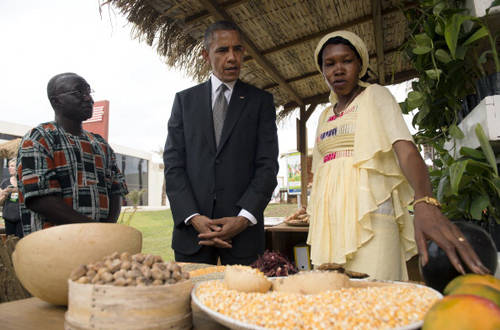 June 28, 2013
Contact: John Torres
jtorres@ncbaclusa.coop
202.383.5452
(WASHINGTION, DC) – On Friday, June 28, President Barack Obama, along with the head of USAID, Rajiv Shah, toured a food security expo in Senegal highlighting projects from the Administration's flagship Feed the Future initiative. NCBA CLUSA is the lead implementer in the USAID-funded Yaajeende project and was one of six booths that directly reported results to President Obama.
"I had a wonderful opportunity to visit this expo and meet some remarkable men and women who are helping us meet an urgent challenge that affects nearly 900 million people around the world… chronic hunger and the need for long-term food security," said President Obama during a press conference following his tour.
Speaking with Obama, NCBA CLUSA's Senior Technical Advisor, Pape Sene explained the various uses and nutritional power of the fruit from the Baobab tree that is being used in the project to boost nutrition and help with the absorption of other vitamins and minerals.
"I was a great opportunity to share the success of this program with President Obama. He was intently listening, and focused and understood the importance of the linkage between health and nutrition," said Pape Sene. "President Obama was very impressed with the work that NCBA CLUSA is doing here in Senegal."
NCBA CLUSA launched the United States Agency for International Development (USAID) funded "Yaajeende" (meaning "abundance") food security project in November 2010. Since then the project has demonstrated a 22% increase in children aged 6-23 months consuming a Minimal Acceptable Diet, the World Health Organization's measure of what is needed to ensure appropriate growth and development.
"That's a fat and happy kid!" stated Obama when shown a picture of one of the children who benefitted from improved nutrition.
During the tour, Obama also meet Oumou Gadio (pictured on the right), a participant in the NCBA CLUSA Community-based Solution Provider (CBSP) innovation. CBSP's are private entrepreneurs who are based in the target communities and who create linkages between the private sector and the producer organizations. Women account for 25% of the CBSP's in Senegal and are critical in scaling up agriculture and nutrition activities and bringing products to the field.
"Here in Senegal and across Africa, most people are employed in agriculture. And we know compared to most other sectors, growth in agriculture is far more effective in reducing poverty, including among women," continued Obama.
Women are a major component of the USAID|Yaajeende project, managing and farming more than 330 community gardens. Mother-to-Mother group training, community meals, and education on sanitation and hygiene are other important ways NCBA CLUSA is integrating ways the program is achieving improved nutritional outcomes.
USAID|Yaajeende is a five-year, $40 million initiative of USAID Senegal under the Feed the Future program implemented by NCBA CLUSA in partnership with Heifer International, Counterpart International, Sheladia Associates, Inc., the Senegalese Institute for Agricultural Research (ISRA), Senegal's National Malnutrition Prevention Unit (CLM), and hundreds of local governments, NGOs, and communities in 3 districts of Senegal.
The National Cooperative Business Association CLUSA International (NCBA CLUSA) is the apex association for cooperative businesses in the United States and an international development organization. NCBA CLUSA provides cross-sector education, support, and advocacy that helps co-ops thrive. For nearly 100 years NCBA CLUSA has sought to advance and protect cooperative enterprises, highlighting the impact that cooperatives in bettering the lives of individuals and families. In the last 60 years, NCBA CLUSA has grown its international development portfolio to over $34 million of active programs in 15 countries.