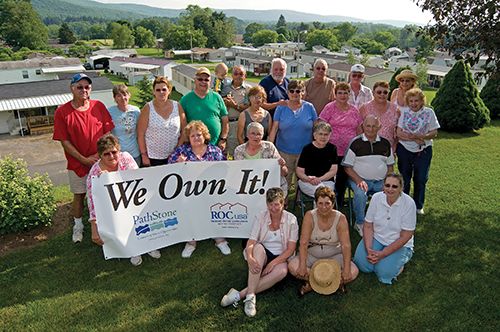 The country's leading lender to resident-owned manufactured home communities has secured millions in national institutional capital, a breakthrough in the history of CDFI-financed resident-owned community preservation.
NCBA CLUSA members ROC USA® Capital and National Cooperative Bank (NCB), along with MetLife insurance company, have forged a $40 million financing partnership to structure a groundbreaking first mortgage acquisition/permanent loan product to finance resident-owned manufactured home communities (ROCs) at scale. NCB and MetLife will each invest $15 million and ROC USA Capital will invest $10 million over two years to finance ROCs in 20 states.
"We launched ROC USA Capital to build a robust national market to finance the acquisition, long-term ownership, operation and improvement of manufactured home communities by the lower-income homeowners who call these neighborhoods home," said ROC USA Capital Managing Director Michael Sloss. "NCB and MetLife have joined ROC USA Capital in doing just that, and we look forward to ongoing work with these and other national institutional investors to deliver the benefits of resident ownership to tens of thousands more homeowners in ROCs across the country."
ROC USA Capital has built a $100 million portfolio of first mortgage community acquisition/permanent loans to 42 ROCs in 11 states since its inception in 2008, enabling more than 3,400 low- and moderate-income homeowners to buy, preserve and improve their neighborhoods. ROC USA Capital has carried out this work on a retail basis, partnering with 20 statewide and regional financial institutions to deliver this critical community acquisition/improvement financing. The partnership with NCB and MetLife opens the door for other national banks, insurance companies and pension funds to finance resident-owned communities.
This is a key development in ROC USA LLC's national strategy to implement its resident ownership model at scale, as national institutional investors have financed manufactured home community (MHC) acquisitions for years by commercial owners, committing close to $1 billion annually in the MHC sector. Bringing such institutional investors to the resident-ownership segment of the MHC sector will enable ROC USA Capital to grow and diversify its lending and set the stage for developing an active secondary market for ROC USA Capital's loans.
"We've been very successful creating resident ownership opportunities on a relatively small scale, more than doubling our portfolio to 10,000 homes in eight years," said Paul Bradley, ROC USA President. "We built ROC USA to scale resident ownership and transform communities by bringing security and economic gain to the often-ignored homeowners in the country's 50,000 manufactured home communities. This loan product makes ROC USA Capital a more nimble and competitive force in that field."
"As a socially responsible, cooperatively owned financial institution, National Cooperative Bank is the ideal partner for ROC USA and MetLife to bring affordable housing to residents across the country," said Ann Fedorchak, Managing Director at NCB. "With over 35 years of providing capital to housing cooperatives, especially those in low-income communities, NCB is very excited to bring this structured loan program to the market and help unit owners realize affordable home ownership."
"ROC USA's model of resident ownership ties to MetLife's financial inclusion work supporting skills and financial products to manage life's risks and seizing its opportunities," said Matthew Sheedy director and head of Community Investments at MetLife. "We look forward to being a part of this initiative, which will empower residents to own their own homes and community."
ROC USA is a nonprofit social venture with a national network of eight affiliates working to make resident ownership viable nationwide. Together, ROC USA Network has helped 178 communities in 14 states bring the safety and security of resident ownership to more than 10,600 lower-income households—giving ROC USA the 12th-largest portfolio in the manufactured home community industry. Continued growth through such partnerships with NCB and MetLife will soon put ROC USA among the top 10.
ROC USA® Capital is a certified Community Development Financial Institution (CDFI), and the lending subsidiary of ROC USA, LLC, a national social enterprise committed to making quality resident ownership of manufactured home communities viable nationwide and to expand economic opportunities for homeowners in manufactured home communities. To learn more, visit www.rocusa.org.
National Cooperative Bank is dedicated to strengthening communities nationwide through the delivery of banking and financial services, complemented by a special focus on cooperative expansion and economic development. NCB provides financial products and services for the nation's cooperatives, their members, and socially responsible organizations. Headquartered in Washington, D.C., the Bank has offices in Alaska, California, New York, Ohio and Virginia. To learn more, visit www.ncb.coop.