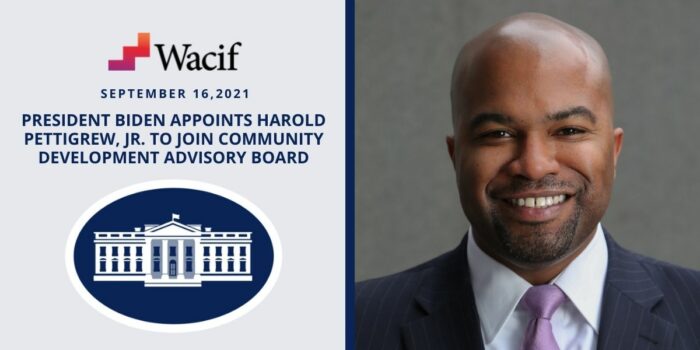 The Washington Area Community Investment Fund (Wacif) announced CEO Harold Pettigrew, Jr.'s selection to the U.S. Department of the Treasury's Community Development Financial Institutions Fund (CDFI Fund) Community Development Advisory Board (the Advisory Board) on September 16, 2021. The Advisory Board consists of 24 members, including the Secretary of the Departments of Agriculture, Commerce, Housing and Urban Development, Interior, Treasury, and the Administrator of the Small Business Administrator, and nine private citizens.
"It is truly an honor to accept this appointment and serve as a member of the Community Development Advisory Board," said Wacif CEO Harold Pettigrew, Jr. "I am thrilled to join such profound company to provide insights that can help impact the industry, and more importantly, the communities we serve."
The CDFI Fund promotes equal access to economic opportunity, investment capital, and financial services to underserved communities by building the capacity of and investing in CDFIs. Members of the Community Development Advisory Board support the Director of the CDFI Fund with guidance and recommendations on policies regarding the CDFI Fund's programmatic activities. The Advisory Board does not advise the CDFI Fund to approve or decline any application for monetary or non-monetary awards.
Wacif is a valued partner of NCBA CLUSA and is committed to creating connections with leaders and organizations advancing equity, inclusion, and economic opportunity. Recently, CEO Harold Pettigrew, Jr. joined Class V of the Aspen Institute's Finance Leaders Fellowship, and CFOO Kevin Fryatt joined Credit Builders Alliance (CBA) Board of Directors as Treasurer and Finance Committee Chair for CBA and the CBA Fund. As the region recovers from COVID-19, Wacif's leaders have helped shape and support an equitable recovery by leveraging their experience empowering underserved communities through economic inclusion, entrepreneurship, and community wealth building.
---
The Washington Area Community Investment Fund, Inc. (Wacif) is one of the Washington, D.C. metropolitan's area's leading Community Development Financial Institution (CDFI) focused on small business development. Wacif's mission is to increase equity and economic opportunity in underserved communities in the Washington, D.C. area by investing knowledge, social, and financial capital in low-and-moderate-income entrepreneurs. To learn more about Wacif's mission, visit www.wacif.org.