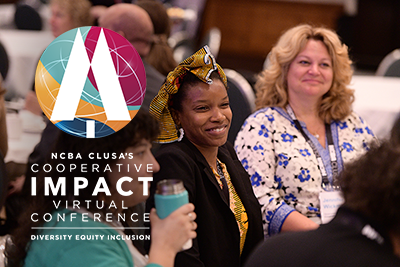 Because the 2020 Co-op IMPACT Conference is a fully virtual event this year, it's a great opportunity for your whole team to benefit from being part of the only national, cross-sector event elevating the national conversation around a trusted, proven way to do business and build communities.
We've made registering as a group easier and more affordable than ever. After the first registration, additional group registrations are available at our exclusive, NCBA CLUSA member rate of $25 per person. During registration, be sure to choose "Group Rate" on the Registration Type dropdown menu. You will need the first name, last name and email address of each person you are registering.
At this year's conference, you and your team will be part of a critical conversation on how cooperatives are addressing their obligation to create diverse, equitable and inclusive workplaces and boards. You'll also help explore how co-ops can better meet the needs of communities that have been excluded from economic participation and advancement. Our speakers will explore the path from privilege to allyship, unpack how power dynamics can impact co-ops and share their expertise and experience around building equitable and inclusive co-op ecosystems, decolonizing the U.S. cooperative movement, changing the co-op leadership lens, promoting enabling environments and more.
With more than 100 speakers and over 40 sessions, panels and keynotes, IMPACT 2020 programming is designed for seasoned decision-makers and emerging leaders alike from across all co-op sectors. In addition to this year's IMPACT Track, we are offering a Purchasing Track and IMPACT International Track. And our Cooperative Leaders and Scholars Institute is your opportunity to develop and engage young professionals (ages 18-35) and post-secondary students of any age with participation in a national cooperative conference and exposure to co-op industry and thought leaders, policymakers, and other key stakeholders.
Don't miss out! Be part of the premier cooperative event of year, and extend the benefit of IMPACT to your entire team by registering as a group.