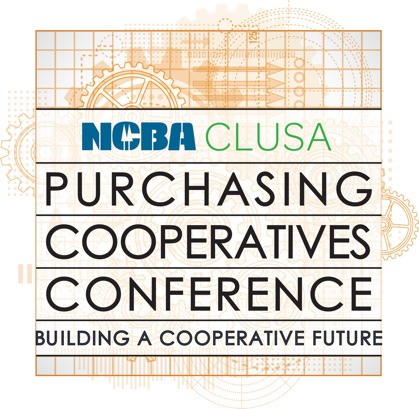 The 2014 Purchasing Cooperatives and Annual Cooperatives Conferences, to be held jointly at the Depot Renaissance Hotel in Minneapolis, Minnesota from September 8 to 11, will feature a unique mix of sessions, attendees and conversations as NCBA CLUSA works on "Building a Cooperative Future" across the various sectors through education, convening and networking opportunities.
Attendees will find a Return on Investment in everything that they will experience, with exhibitors playing an integral role.
On September 9, during the Purchasing Cooperatives Conference, attendees will have the opportunity to break into small groups in the ROI Roundtable Session, rotating every 15 minutes to different "mini-breakout session" tables, each facilitated by a sponsoring exhibitor. There, they can expect to pick up quick tips, tricks, best practices and other information they can implement upon returning to their organizations.
On September 10, during the Annual Cooperatives Conference, exhibitors will provide a unique perspective on advancing "The Blueprint for a Cooperative Decade," assisting ICA President Dame Pauline Green and NCBA CLUSA staff by tracking commentary and taking notes.
Other sponsor contributions attendees can expect include:
• Breakfast & Hospitality Bags: Courtesy of CBI Global, conference attendees will receive a 100% recyclable beach tote, complete with assorted cross-sector co-op products made possible in cooperation with Equal Exchange, Pachamama, Frontier, ASPCO and the National Cooperative Bank.
• Purchasing Conference Welcome Reception & Dinner: LBMX, a provider of group management, rebate maximization and purchase analysis solutions, will sponsor the opening reception and dinner for the Purchasing Cooperatives Conference on September 8, open to all attendees. A Bronze-Level Associate Member of NCBA CLUSA, LBMX will also provide Wi-Fi and A/V at both conferences.
• Networking Luncheons: NCBA CLUSA Gold-Level Associate Member The Capital Group will host the Purchasing Cooperatives Conference Luncheon on September 9, and CHS Inc., the leading farmer-owned co-op specializing in energy, grain and food, will sponsor the Annual Cooperatives Conference Luncheon on September 10.
• Technology Panel Survey: Returning sponsor OrderWithMe, founded by Jonathan Jenkins (a TechCrunch Disrupt winner and leading software innovator), has designed a survey in collaboration with NCBA CLUSA to drill down on the needs of purchasing co-ops. The results will be reported during the Technology Adoption Panel on September 10.
• S'mores & Spirits After-Hours: New this year, CoBank will host a S'mores & Spirits "after-hours" event on September 10, outside on the conference hotel's patio, providing additional networking time paired with late-night snacks and beverages.
• Mobile Charging Station & Newcomers' Breakfast: Corcentric, a leading accounts payable (AP) software provider and Gold-Level Associate Member of NCBA CLUSA, will provide a charging station for attendees' mobile devices in the exhibit hall throughout the conference, as well as sponsor the Newcomers Breakfast for Purchasing Cooperatives Conference attendees on September 9.
• Exhibit Hall: dotCoop and NCBA CLUSA Associate Members TransFirst (Gold), MindActive (Silver), and Crowe Horwath and Pentegra (Bronze) will be on hand throughout the conference to talk with attendees about solutions to their business challenges.
Click here to learn more about the conference, and to register.