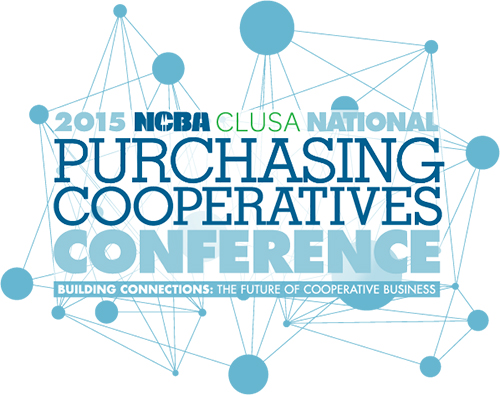 NCBA CLUSA's 2015 National Purchasing Co-op Conference, scheduled for October 5 – 7 in New Orleans, Louisiana, will feature a unique mix of sessions, networking opportunities and activities designed to build connections within the diverse shared services sector. Throughout the week, attendees will learn how to facilitate growth and provide their members a competitive advantage. To help attendees implement these new ideas, NCBA CLUSA is hosting 11 sponsoring organizations dedicated to supporting cooperatives with their suite of business services.
On Tuesday afternoon, October 6, each sponsor will have an opportunity to introduce their organization and explain how their business services can benefit the co-op sector. Four ROI Roundtable sessions of 15 minutes each will follow, allowing attendees to participate in small break-out Q&As to learn about the sponsors' products, share challenges their co-op faces and hear insight on new trends within the purchasing sector.
Below you'll find a full list of organizations participating in the ROI Roundtables. Attendees are encouraged to read up on these leading-edge organizations ahead of the conference and come to New Orleans prepared with questions.
.coop – Host Sponsor
Used by thousands of cooperatives all over the world, .coop is the global online identity for the cooperative movement. The .coop domain helps cooperative organizations enhance and market their businesses, better connect with their members and network with other cooperatives around the world.
LBMX – Premier Sponsor
LBMX is the leading provider of real-time data technology solutions exclusively for cooperatives and their independent members. LBMX helps groups deliver on their promise of real value with a suite of applications designed to improve rebate management, capture plateau opportunities, maximize and flex buying power and enable more strategic purchasing decisions, all by using real-time data.
The Capital Group – Silver Sponsor
An ensemble organization of experienced financial professionals representing Lincoln Financial Advisors Corp. (LFA), The Capital Group is part of a nationwide Resource Group. This elite group of planners provides their clients with exclusive solutions and strategies to enable wealth preservation, growth and transfer as appropriate to their identified objectives and preferred techniques.
Corcentric – Silver Sponsor
As a provider of leading-edge financial process automation solutions for buying groups, purchasing co-operatives and their members, Corcentric can connect your entire community electronically. Key capabilities include private-labeled Web portals, easy ERP integration, price file validation, contract compliance management, rebate management, invoice translation and validation and more.
MindActive – Bronze Sponsor
Since 1998, MindActive has provided clients with a full spectrum of eMarketing, eCommerce and Web design services—from corporate identities and Internet branding to video graphics and online communication tools. While MindActive focuses on a variety of industries, its mission is to offer every client best-in-class digital marketing and communication tools based on solid strategy that positively differentiates them in the competitive marketplace.
BlueVolt – Keynote Sponsor
Blue Volt is an e-learning solutions organization that helps increase your members' profits and drives sales growth. Through its unique ecosystem, online university, certification programs and understanding of "channel-driven industries," Blue Volt allows co-ops to deliver online training that connects their members and suppliers in mutually beneficial ways. Remember—education drives growth!
National Cooperative Bank – Keycard Sponsor
National Cooperative Bank (NCB) provides comprehensive banking services to cooperatives and other member-owned organizations throughout the country. In accordance with their congressional charter, NCB has a significant commitment to community revitalization. For purchasing co-ops, this means cash management solutions, highly-competitive rates, variable lines of credit and loan programs.
Simply Voting – Live Poll Sponsor
Simply Voting, Inc. is a full-service provider of secure, hosted online elections. Launched in 2003 and currently utilized by more than 900 organizations across 48 countries, Simply Voting has extensive experience in safely executing their clients' elections, providing in-depth analytics and assisting on survey design where applicable.
WithMe – Ideation Wall Sponsor
Based in Las Vegas and hyper-focused on keeping independent businesses competitive, WithMe believes that your members and your supplier partners are often forced to spend too much time managing invoices and payments—time that could be spent doing great work. WithMe's no-cost platform increases your real-time visibility of purchases while improving cash flow for your members.
Pentegra Retirement Solutions – Ideation Table Sponsor
Founded as a not-for-profit cooperative, Pentegra is the retirement services provider of choice to more than 4,000 organizations, with a portfolio of nearly $8 billion in retirement plan assets. Pentegra offers a full spectrum of retirement programs, including Multiple Employer Plans and Group Trusts, 401(k) plans, Defined Benefit Pension plans, Cash Balance plans, 457(b) and 457(f) plans and more.
CoMetrics – Exhibitor
CoMetrics provides easy-to-use industry benchmarking and analytics to cooperatives and independent businesses. Their platform seamlessly collects and weaves together rich financial and operational data providing a portfolio view for purchasing cooperatives and actionable benchmarking for members, which can help to strengthen member performance, increasing the value of cooperatively-owned purchasing groups.
Castle Wealth Advisors – Associate Member
Castle Wealth Advisors is a fee-only financial advisory firm that designs and implements financial strategies for closely-held business owners to achieve their goals and protect their business 
and family assets. Offering a full suite of consulting, valuation, transition and retirement plan management services, Castle Wealth has been a resource for purchasing cooperatives for more than two decades.
Dorsey & Whitney – Associate Member
Dorsey is a law firm that applies a business perspective to clients' needs. Marrying their extensive cooperative experience with a priority to understand the context of your business first, Dorsey has become the go-to resource for legal solutions in the cooperative sector. With offices around the globe, Dorsey can offer your co-op access to native legal experience virtually anywhere in the world.
NSAC – Associate Member
The National Society of Accountants for Cooperatives is comprised of professionals actively involved with the financial management of cooperatives. NSAC strives to provide accounting, tax and business education uniquely tailored to cooperatives while supporting cooperatives in business interests and offering networking and professional development opportunities.
Wegner CPAs – Associate Member
The Wegner CPAs cooperative group has more than 65 years of combined knowledge and experience working in the cooperative sector. Led by nationally recognized experts in the cooperative field, Wegner currently works with more than 60 cooperative groups nationwide, including purchasing co-ops. Their services include audits, reviews, compilations, tax returns, bookkeeping, controller services and more.