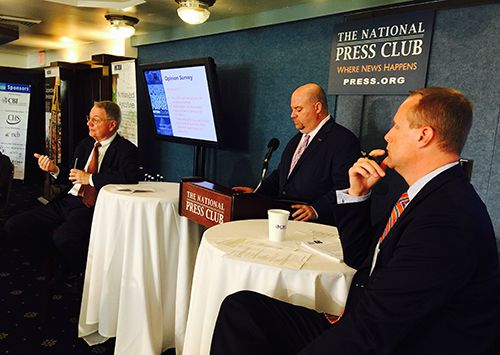 According to the first public opinion survey on cooperatives in more than a decade, a majority of Americans surveyed strongly believe co-ops are beneficial to consumers, despite their general lack of awareness of the philosophy governing the cooperative business model.
Unveiled on May 6 during the 2015 Annual Cooperatives Conference by Mike Beall, president and CEO of NCBA CLUSA, and Stephen Brobeck, executive director of the Consumer Federation of America, the survey results indicate that even among co-op membership, awareness of the co-op business model is not always apparent. Of those surveyed, only 25 percent identified as co-op members, but when counting respondents who said they belong to a credit union, utility co-op or mutual insurance company, the number rises to 43 percent.
Despite only a minority (7 percent) indicating that they are "very familiar" with the philosophy of cooperatives, a large majority of respondents (70 percent) said co-ops are helpful to consumers.
"The cooperative movement is at a crucial tipping point," Beall said. "More and more Americans are connecting with the principled and consumer-focused nature of the co-op model and this survey clearly reveals that shift."
Specifically, respondents rated co-ops higher than for-profit businesses in each of the following value indicators, often by margins of 15 – 20 percentage points:
• Have the best interests of the consumer in mind
• Run business in a trustworthy manner
• Committed to/involved in their communities
• Committed to the highest quality of service
• Offer fair, competitive prices
• Can be counted on to meet customers' needs
• Provide products/services of high value
For-profit businesses scored higher only in the "offer customers more choices" category, and only by 5 percentage points.
"I think we can feel good about most of these findings," Brobeck said. "The American public may not have a detailed understanding of cooperatives, but they have a very positive feeling toward co-ops, and I think that positive feeling is what motivates consumer decisions to a large extent."
That positive feeling toward the co-op business model is mirrored by members of Congress, Beall said. During dozens of "Hike the Hill" meetings the previous day, NCBA CLUSA members and supporters met with an unprecedented 36 Congressional offices and received "generally very positive responses," Beall said, even if lawmakers were fuzzy on the details. The visits were meant to educate Congress members about the scope and influence of the cooperative movement and urge them to join a Congressional Cooperative Business Caucus.
Raising awareness of the co-op business model—among Congress members and the American public—is a matter of continuing to build cross-sector connections that harness the collective influence of the co-op movement, Beall continued.
"We know the numbers: 1 in 3 Americans are co-op members, 75 percent of the U.S. landmass is served by electric co-ops and more than 100 million people now identify as credit union members. We've got to keep connecting the sectors. That's where we really are powerful," he said.